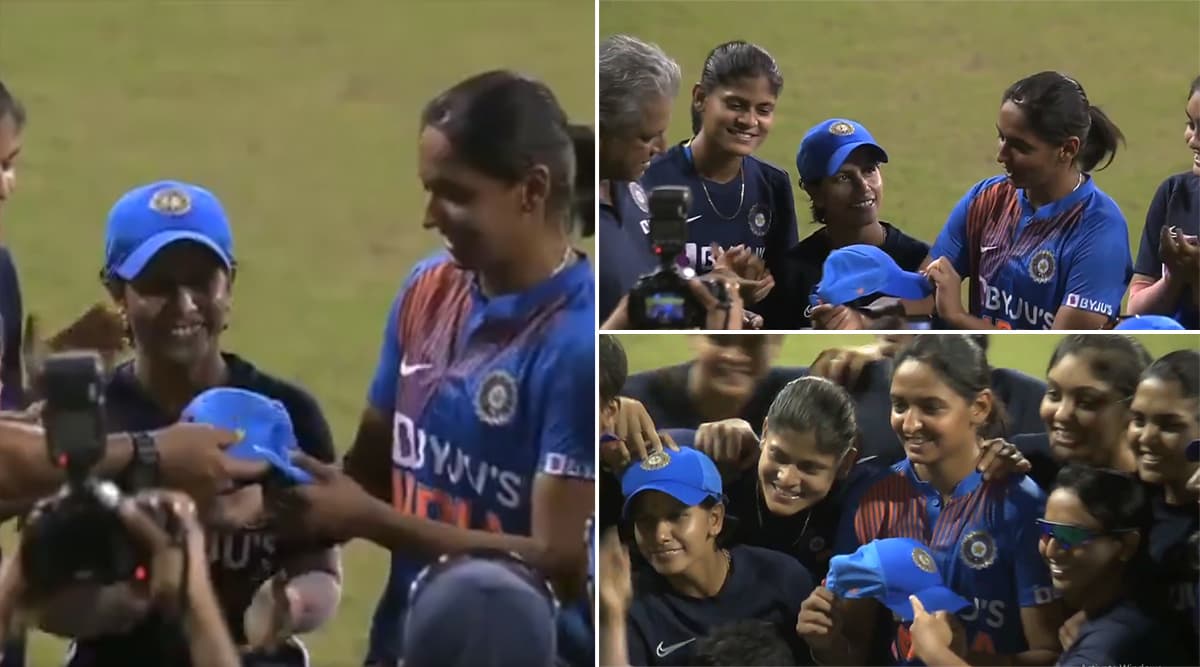 Harmanpreet Kaur was presented with a special cap to mark her achievement of becoming the first Indian cricketer to appear in 100 Twenty20 Internationals. Kaur is also India's most-capped T20I player having overtaken the likes of MS Dhoni and Rohit Sharma to reach the milestone of becoming the Indian player with most appearances in Twenty20 Internationals. The 30-year-old received a special team India cap that had the number '100' on it. Kaur was presented the cap by India National Women's team coach WV Raman. Harmanpreet Kaur Becomes First Indian Cricketer To Play in 100 T20Is, Achieves The Feat in India Women vs South Africa Women 6th T20I 2019.
Raman had on October 3, 2019 (Thursday) overtaken Dhoni and Rohit to become India's most-capped T20I player. Dhoni and Rohit are both tied on 98 T20I appearances each for the India national men's cricket team. Kaur overtook that record and created her own when she led India to a five-wicket victory over South Africa Women in the fifth T20I game of a six-match Twenty20 series. The power-packed batswoman was honoured with the special minted cap in front of the entire Indian Women's team. The group also later posed for photographs with Kaur at the centre. Live Cricket Streaming of India Women vs South Africa Women, 6th T20I Match 2019 on Hotstar and Star Sports: Watch Free Telecast and Live Score of IND-W vs SA-W Twenty20 Clash.
A Special Cap to Mark a Special Occasion
Kaur also joined Virat Kohli, Rohit Sharma and Mithali Raj to become the fourth Indian international to have scored 2000 or more runs in Twenty20 cricket. Kaur is the second Indian Women after Raj and eighth Women overall to have achieved that feat. She has scored 2003 runs from 100 T20I games. Meanwhile, Virat Kohli – with 2450 runs from 72 Twenty20 games – leads the Indian list of most T20I runs followed by Rohit (2443 in 98 T20Is), Raj (2364 in 89 games) and Kaur.
Suzie Bates of New Zealand I the highest run-scorer in Women's T20I cricket with 3100 runs from 111 T20I matches. Kaur is also the 10th Women's international player to appear in 100 or more T20I games. Interestingly, Shoaib Malik is the only men's player to player over 100 Twenty20 matches.
Harmanpreet Kaur Becomes 1st Indian Cricketer To Play in 100 T20Is
Meanwhile, South Africa opted to bat first after winning the toss. India had already sealed the six-match T20I series and currently hold an unassailable 3-0 lead. Two games in the six-match T20I series were abandoned due to inclement weather and poor outfield conditions.