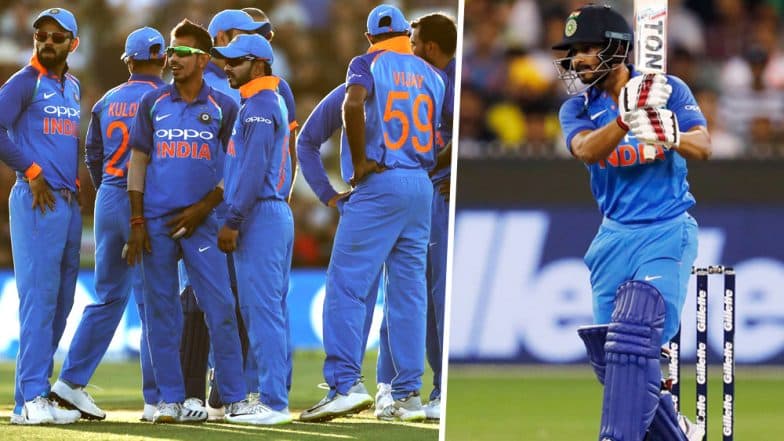 Kedhar Jadhav has been India's go-to man for a while now, whenever there's a need to break a brewing partnership. The unorthodox all-rounder has never disappointed his team and has always delivered in need of the hour. However, Jadhav has been a lucky charm too, as the Men in Blue have never lost in an ODI where he has featured, of late.
The Indian team seems to have found its magic man in Kedar Jadhav, as they have in all 16 One Day International (ODI) matches that he has been a part of the Indian team. The streak began surprisingly, against their current opponents New Zealand. 'MS Dhoni Staying Till The Last Always Helps', Says Kedar Jadhav After India Defeat New Zealand in 2nd ODI at Mount Maunganui.
India beat New Zealand by six wickets in the ODI match in Pune on October 25, 2017. Since then, India has won all occasions in the ODI format, in which Kedar Jadhav has been in the Indian team – the exception being the Asia Cup 2018 match, where India managed a tie against Afghanistan.
After India won the second ODI match against New Zealand in Mount Maunganui, Kedar Jadhav said, "The kind of cricketer I am today is because of MS Dhoni. He has always encouraged me. They (seniors – Virat Kohli, Rohit Sharma, MS Dhoni) give me so much confidence that I don't feel the pressure of a part-time bowler." India's Likely Playing XI Team for 3rd ODI vs New Zealand 2019: Will Virat Kohli Replace Vijay Shankar With Hardik Pandya As IND Eye Series Win.
Kedar Jadhav would be vying to continue his streak in the third ODI match against New Zealand as well. After being 2-0 up in the series, the Men in Blue would be looking forward to sealing the 5-match ODI series at the Bay Oval, on January 28, i.e. Monday. Stay tuned with us for all the latest updates about India v New Zealand Series 2019!