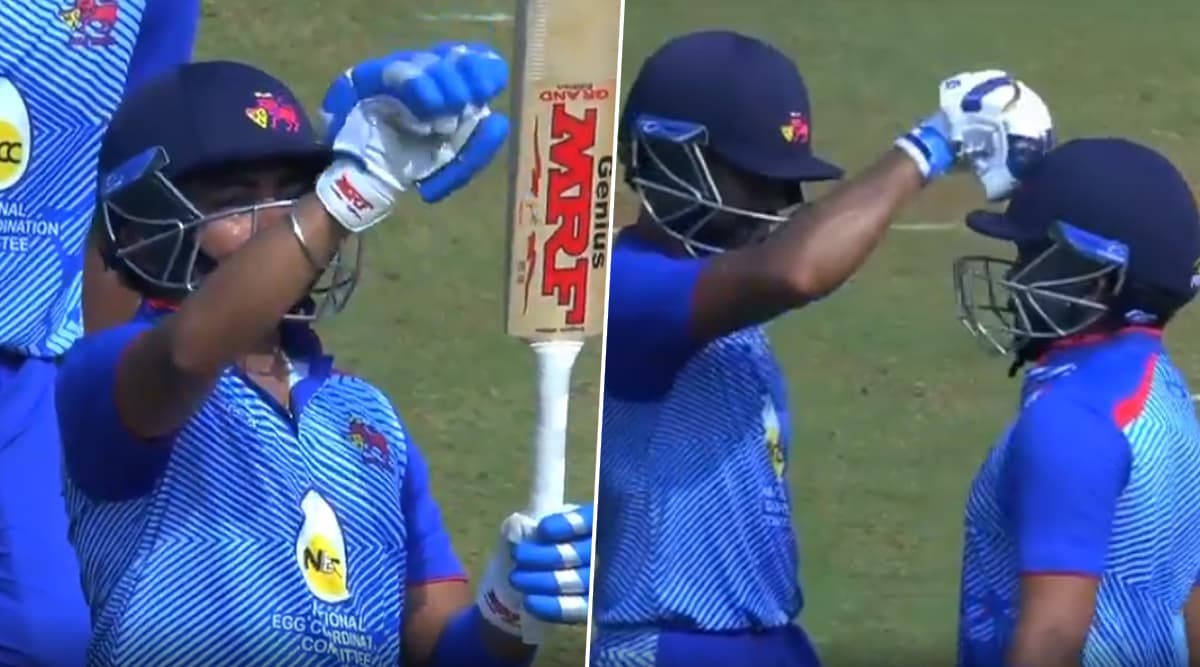 Prithvi Shaw, who returned to cricket after an eight-month doping ban by BCCI, hit a half-century in the Syed Mushtaq Ali Trophy 2019-20. However, the young Indian cricketer was trolled for his 'arrogant' gesture towards the after hitting a fifty on his return in cricket. Shaw played for Mumbai in the match against Assam in ongoing Syed Mushtaq Ali trophy 2019-20 on Sunday. He smashed 63 runs off 39 balls as Mumbai defeated Assam by 83 runs in the match. Prithvi Shaw Assures Fans He Will Return With His Better Version After Serving Suspension. 
After reaching his half-century, Shaw gestured to the crowd at Wankhede Stadium expressing that he will let his bat do the talking. BCCI shared the video on Twitter as the Mumbai opener made a brilliant comeback. However, the video was not well received by India cricket fans who called his behaviour as arrogant. While some called it Shaw's kiddish attitude, others pointed out he suffered a ban due to his own wrongdoings. Have a look at Prithvi Shaw's video and netizens' responses on the video below. Abhay Negi Smashes Fastest Fifty in Syed Mushtaq Ali Trophy 2019–20; Meghalaya Cricketer Hits Six Sixes to Reach Half-Century in Just 14 Balls. 
Prithvi Shaw Trolled!
Welcome back! He is making a comeback today and @PrithviShaw makes it a memorable one with a fine-half century for Mumbai against Assam in @Paytm #MushtaqAliT20. pic.twitter.com/hiBfiElhed

— BCCI Domestic (@BCCIdomestic) November 17, 2019
Overrated!
Shaw is so overrated. Shaw is the next Kambli. He will throw it away with this kind of poor attitude and arrogance.

— Raghav Nelli (@rnelli) November 17, 2019
Arrogant behaviour!
Shaw behaving as if he was wrongly banned from cricket.

My dear you were banned because you took drugs (Knowingly or unknowingly).

Now If you want to replace Rohit or Mayank than you need to focus only on cricket & pile runs against some quality teams.

— Amaresh Rakkasagi (@Amaresh_R15) November 17, 2019
Whom are You Signalling?
What is this gesture from prithvi..all the problems are his doing ..whom is he signalling #asksportstak @vikrantgupta73

— saurabh dutta (@saurabhdutta11) November 17, 2019
Learn Some Humility!
Dude! No one gives a shit. Learn some humility. He is not even a regular! Maybe it's the set up in Mumbai or time spent under Kohli that makes players behave like this. Smh. Not a good look.

— Raghav Nelli (@rnelli) November 17, 2019
Prithvi Shaw was banned for ingesting a banned substance commonly found in cough syrup in February this year during the previous season of Syed Mushtaq Ali Trophy. His ban ended on November 16 this year. Meanwhile, in the Mumbai vs Assam match in Syed Mushtaq Ali Trophy 2019-20, Mumbai scored 206 runs batting first. Other than Prithvi, Aditya Tare smashed 82 runs off 48 balls. Assam were far out of reach from victory. Assam could only score 123-8 in 20 overs, losing the match by 83 runs.
Syed Mushtaq Ali Trophy 2019-20 started on November 8. A total of 38 domestic teams are participating in the tournament, which is a T20 tournament. Teams are divided into five groups- A, B, C, D and E. The tournament will conclude with the final match on December 1.