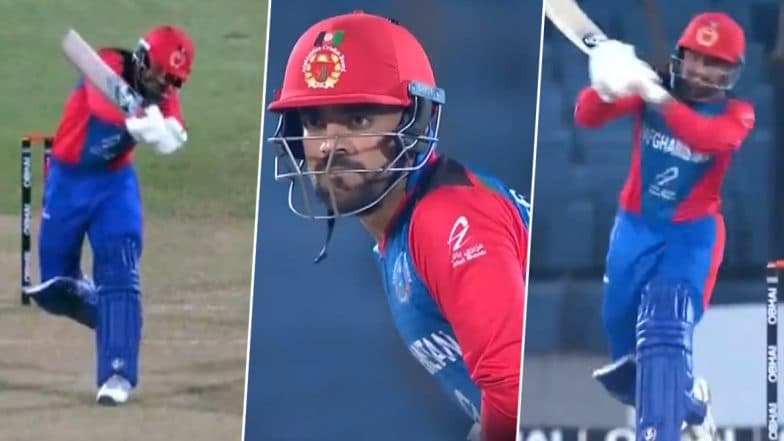 Rashid can bamboozle batsmen with devious leg-spinners. Then Rashid Khan is also a pretty handy lower-order batsman can smash deliveries out of the park with short you haven't seen before. But no one knew that Rashid can also hit Tennis shots in the cricket field. The Afghanistan cricketer – who celebrated his 21st birthday a couple of night ago – showed glimpses of his Tennis connection during the Zimbabwe vs Afghanistan 5th T20I game. Rashid hit the first delivery of 20th over for an outrageous six. His shot – the daddy of all unorthodox shots – was more a Tennis forehand than a cricketing shot and it led fans to compare it with the famous and powerful forehands of Tennis great Rafael Nadal.
Rashid, who became the youngest Test captain ever, produced a match-winning performance to lead Afghanistan to a historic Test victory away from home against Bangladesh. But the 21-yer-old Afghan skipper will perhaps revere the six against Zimbabwe more than the match-winning performance against Bangladesh. He even tweeted a video clip of that six and captioned the post with Tennis balls. Rashid's stunning six came in the first delivery of the last over of Afghanistan's innings after they had won the toss and opted to bat first. 'Happy 25th Birthday Rashid Khan': Did David Warner Reveal Afghanistan Captain's Real Age in His Birthday Wish for IPL Teammate.
Rashid Khan's Powerful Forehand
🎾🎾🙈🙈😍🇦🇫🇦🇫✌🏻✌🏻✌🏻 pic.twitter.com/x6AhLQwTWi

— Rashid Khan (@rashidkhan_19) September 21, 2019
The last over was bowled by Chris Mpofu, whose short delivery was smashed with a flat-batted shot by Rashid. His Tennis shot helped the ball over the deep mid-wicket boundary and even led to fans drawing comparisons with 19-time Grand Slam winner Rafael Nadal.
Rafael Nadal Shot
Rafeal nadal shot♥

— Ali Khan (@AliKhan71123387) September 21, 2019
From Cricket to Tennis
From playing cricket with tennis ball to playing tennis with cricket ball 😅😍

— Kausthub241 (@kaustats) September 21, 2019
Ridiculous!!
Ridiculous shot

— . (@Safi7473) September 22, 2019
A
A Different Game!!
— Manish (@IManish311) September 21, 2019
But even Rashid's heroics couldn't help Afghanistan to a victory as Zimbabwe romped home to a seven-wicket victory on the shoulders of captain Hamilton Masakadza's brilliant 71 from just 42 deliveries, which comprised of five sixes and four fours. Masakadza also bid adieu to international cricket following the clash and retired with the record of registering the highest individual score in a final T20I appearance.