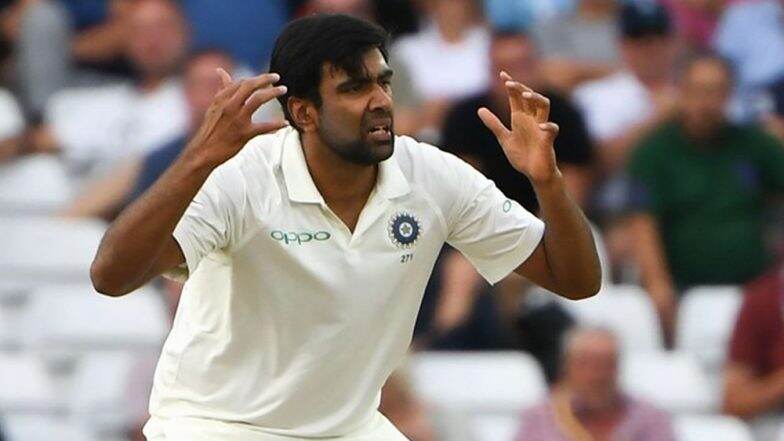 Ravichandran Ashwin's exclusion from team India's playing XI for the opening Test against West Indies left many disappointed with skipper Virat Kohli. The list goes as far Indian cricket legend Sunil Gavaskar, who went heavy on the Indian team management's decision to leave out India's premier spinner from the game at the Sir Vivian Richards Stadium in Antigua. His exclusion means the 32-year-old has now missed four straight Test matches for India, having missed out all three games in Australia owing to an injury. India vs West Indies Live Cricket Score 1st Test Match.
Ravindra Jadeja, who is currently India's best-ranked bowler in Test cricket, is the lone spinner in the side. Jadeja is ranked fifth in the bowler's rankings and second in the all-rounder's list, while Ashwin is 10th in the bowler's rankings and seventh in the all-rounders' list. IND vs WI 2019, 1st Test: Sourav Ganguly Wants Virat Kohli to Do a Virender Sehwag With Rohit Sharma.
Ravi Ashwin Dropped!
Rohit Sharma ❌

Ravichandran Ashwin ❌

Hanuma Vihari ✅

Ravindra Jadeja ✅

Thoughts, India fans?

FULL INDIA TEAM ⬇️ https://t.co/egvDo7fncD pic.twitter.com/xSfheI6DCm

— ICC (@ICC) August 22, 2019
Despite carrying niggles for most away series in recent past, Ashwin has been India's best spinner in the longest format of the game and has an incredible track record against West Indies. Fans were extremely miffed on seeing the veteran off-spinner carrying drinks in the first session of the opening Test. Take a look at some tweets. Virat Kohli Better than Steve Smith, Will Break Sachin Tendulkar's All Records except One, Says Virender Sehwag.
Conspiracy Theories By Virat Kohli and Ravi Shastri?
I'm usually totally against "conspiracy theories" but I do feel that the only reason Ashwin is not playing this test, or at a larger level, not playing ODIs, is because Kohli and Shastri see him as a threat.

— Ramesh Srivats (@rameshsrivats) August 22, 2019
6 MOS Awards in Tests Not Enough
@imVkohli @RaviShastriOfc For your kind attention. @ashwinravi99 is a far better test player than anybody else in current Indian team. 6 MOS awards is no less feat. Leadership crisis. #Ashwin #Rohit https://t.co/bnPiYpcSlU pic.twitter.com/l4ZKMhGCxZ

— Krishnaraj Subramaniam (@KrishnarajS01) August 22, 2019
Bradman Level in Tests
When we created fantasy leagues for IPL, ICC, & Fandromeda, we spent much time figuring out equivalence between batting & bowling (for the points system). In tests, a 4-wicket haul = century by batsman. Ashwin has 42 four-wicket hauls in 65 tests. That's Bradman level. @ABVan

— Ramesh Srivats (@rameshsrivats) August 22, 2019
Consistency Not Enough
The most senior spin bowler is out of the first test despite of his consistently good performance through bat as well as ball, that's a question @imVkohli has to get through.@ashwinravi99 selection in the team knowing of the windies batting is questionable. #Ashwin #INDvsWI pic.twitter.com/zlTLPlxgCn

— Suraj Bose (@SurajBose6) August 22, 2019
Tremendous Record in English County
Ashwin, the guy who is coming on the back of a terrific run of form in first class cricket where he got 20 odd wickets from 3 matches in ENGLISH CONDITIONS isn't selected ? #SackRaviShastri

— face palm (@zanypest) August 22, 2019
Baffling
How can #ashwin be dropped from the Indian test team ? Just baffling ! #WIvIND

— Aswath Balakrishnan (@aswathb) August 22, 2019
Insane From Kohli and Shastri
Ashwin not playing is insane. He's coming off a fairly decent county stint. This is insane from Kohli and Shastri. #WIvIND

— Aniket Bose (@ABnormalConnect) August 22, 2019
Strange Selection
If we are playing with lone spinner then he has to be Ravi Ashwin. Strange selection. #WIvIND

— KedarHirve (@KedarHirve) August 22, 2019
Ravi Ashwin is a Master Against West Indies
Ravichandran Ashwin toyed West Indies with both bat and ball at both home and Away.

Ashwin vs West Indies

With Bat:

Matches: 11

Runs: 552

Avg: 50.18

💯: 4⃣

With ball:

Wickets: 60

Avg: 21.85

S/R: 43.63

5⃣ W'Hauls: 4

Best: 7/83#WIvIND pic.twitter.com/X1U28TzGwS

— OmkarGanda 🇮🇳 (@omkarganda36) August 22, 2019
Ashwin has so far played 11 Tests against West Indies and has 60 wickets against them to add to his four international hundred and a batting average of 50+. He has so far played 65 Test matches for India and has taken a record haul of 342 wickets and is the fastest ever to complete 250 and 300 Test wickets.
Gavaskar was shocked at the exclusion of the veteran Indian spinner, who is also the prime spin-option for India in 5-day cricket. "[The selection] astonished me," Gavaskar was quoted as saying by ESPNCricinfo during commentary on Sony. "A man with that kind of record, especially against West Indies. He doesn't find a place in this playing XI. That is stunning. Astonishing."
Meanwhile, India also surprisingly went in with three specialist bowlers, five batsmen and one all-rounder. Fans were left surprised at the decision to go with an additional batsman especially after seeing their beloved team play at least four specialist bowlers and an all-rounder for most of Kokhli's tenure as the Indian Test captain.