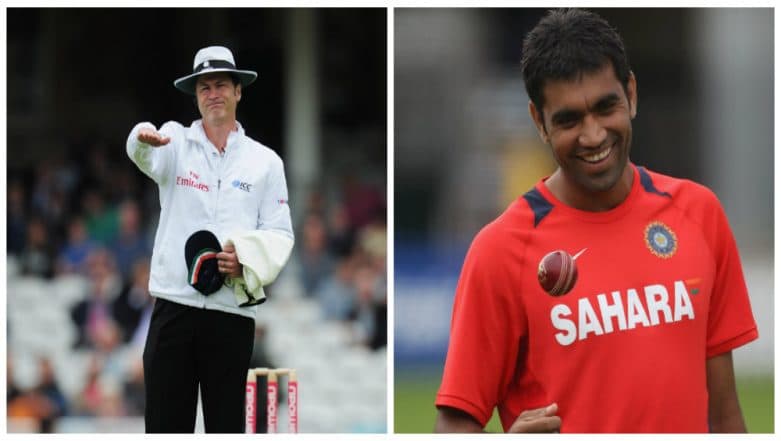 Nagpur, March 12: Australian umpire (now retired) Simon Taufel, known for his impeccable umpiring career, recently addressed a large gathering of students at Visvesvaraya National Institute of Technology auditorium and pleasantly surprised them after he recalled an incident between former Indian bowler Munaf Patel and England batsman Owais Shah. WB Govt Felicitates Former Umpire Simon Taufel.
The Australian, who was and still is one of the best known umpires from 2000 onwards, winning the ICC Best Umpire award for consecutive years from 2004-2008 shared a sledging incident involving Munaf Patel and Owais Shah from a 2006 Test Match played at Wankhede Stadium that not only split audience's side with laughter, but also drove home his point to the eager students who were more than amused to hear the tale from the horse's mouth. Give Hardik and Rahul Another Chance, Appeals Umpire Taufel.
Taufel, upon spotting a photograph from that match, asked one of the students in the crowd, "What did Munaf say"(in the photograph)?" The young boy responded saying, "Bad words." But Taufel went ahead and asked the student, "which bad words?" Munaf Patel Retires: World Cup Winning Indian Fast Bowler Calls It Quits, Feels Satisfied After Hanging Boots on 15-Year-Career!
There was a huge laughter in the crowd after Taufel asked this question and an even bigger cheer when Taufel himself revealed the answer saying, "Munaf said 'Saala ch**ya' to Shah." Taufel speaking the Hindi sledge/derogatory term brought the house down as no one expected the Australian to be well-verse with Hindi slang terms.
Taufel, who was speaking at the Annual Entrepreneurship Summit Consortium 2019, further elaborated his point saying, "One of the things I learned as a cricket umpire was I got to know good words in local language. Now, I know bad words in seven different languages. It helped me a lot in dealing with on-field incidents. Same applies to your career. You got to have your foundation strong," he advised the students, as they gave him a loud round of applause.