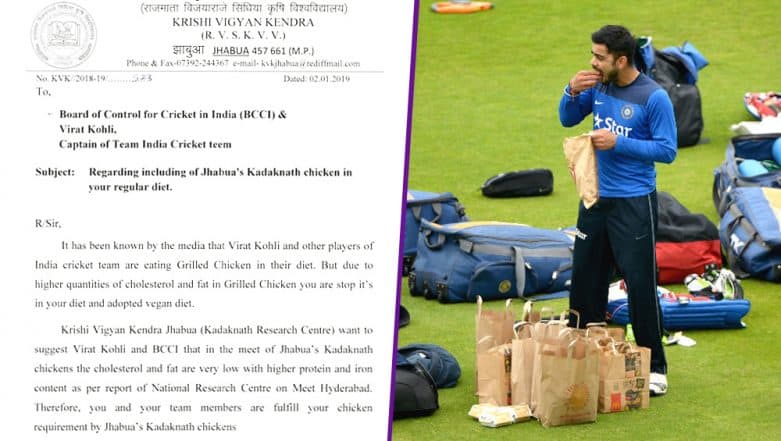 Krishi Vigyan Kendra in Jhabua (Madhya Pradesh) has requested the Board of Control for Cricket in India (BCCI) and Indian team captain Virat Kohli to alter their diet. In their letter on Wednesday, the Science Centre asked them to change the dietary plans of the Indian cricket team members and replace Grilled Chicken with Jhabhua's 'Kadakanth' variety of chicken.
In its letter, the Science Centre mentioned that the Grilled Chicken that is currently being served to the Indian team is high on cholesterol and fat. Also, the Kadaknath-breed suggested in the letter are low on cholesterol and fat, and high on protein and iron content. 'I Have Got a Total Cricket Crush on This Guy, Virat Kohli', Says Australia Sports Minister; Calls Indian Cricket Team Captain Best Batsman in the World.
The Science Centre mentioned the National Research Centre Meet in Hyderabad to justify their claims. Also, it had enclosed the report copy too.
Here's what Krishi Vigyan Kendra said about Kadaknath Chicken to the Indian team:
Krishi Vigyan Kendra, Jhabua (Madhya Pradesh) writes to BCCI and Indian captain Virat Kohli asking them to now consider eating 'Kadaknath' chicken due to its low cholesterol and fat content. pic.twitter.com/DH4GVNDGC5

— ANI (@ANI) January 2, 2019
A lot has been said about the Indian team's dietary plans on foreign tours. A small group of representatives had travelled to Australia before the commencement of the trip to fix the kind of food to be made available to the Indian team.
Also, during India's tour to England, earlier this year saw a controversy take place when the Indian team were served beef in their lunch menu during the Test match. Well, will Jhabhua's Kadaknath will help or not, or will it get replaced or not, is for the Indian team management to tell. India's Likely Playing XI for Sydney Test 2019: Will Virat Kohli Give Another Chance to KL Rahul?
For now, the Indian team is 2-1 up in the 4-match Test Series. The fourth and final Test will begin at the Sydney Cricket Ground, starting January 3. Stay tuned with us for all the latest updates about India vs Australia 2018-19 Test Series!