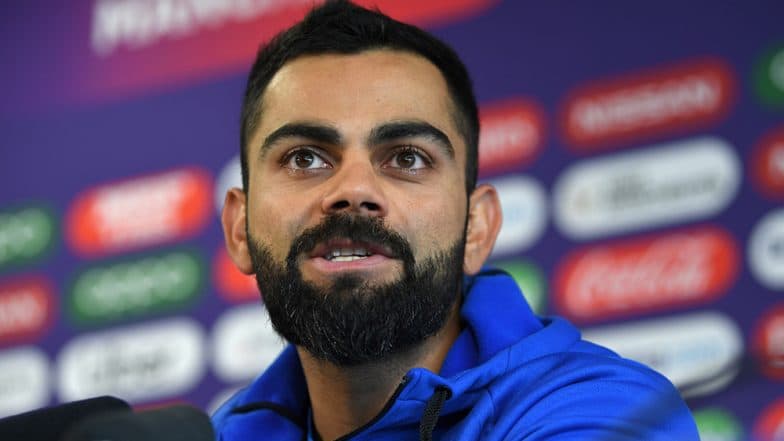 Virat Kohli was given one demerit point after engaging in inappropriate physical contact during India vs South Africa 3rd T20I match in Bengaluru. The Indian skipper was reprimanded by ICC over the matter. The incident happened during the 5th over of India's batting at MA Chinnaswamy stadium. While taking a run, Kohli made inappropriate physical contact with South African bowler Beuran Hendricks. Hence, he breached Article 2.12 of the ICC's Code of Conduct for Players and Player Support Personnel. This relates to "Inappropriate physical contact with a Player, Player Support Personnel, Umpire, Match Referee or any other person (including a spectator) during an International Match." Virat Kohli Loves Making Funny Faces and His Cute Expressions In Latest Instagram Pic Has Our Attention!
Kohli was charged with level 1 breach of the ICC Code of conduct. The charges were levelled by on-field umpires Nitin Menon and C K Nandan, third umpire Anil Chaudhary and fourth official Chettihody Shamshuddin. The sanctions were imposed by match referee Richie Richardson and the 30-year-old cricketer accepted the charges. Therefore, there was no formal hearing in the matter. Rishabh Pant & Deepak Chahar Get Trolled For Forcing Virat Kohli to Take DRS During IND vs SA 3rd T20I Match. 
This was the third time that the Indian skipper was given a demerit point in his disciplinary record. Earlier in January 2015, Kohli was given a demerit point during a Test match against South Africa. During ICC Cricket World Cup 2019 match against Afghanistan on 22 June, he was given another demit point. Level 1 breaches carry a minimum penalty of an official reprimand, a maximum penalty of 50 per cent of a player's match fee, and one or two demerit points.
Meanwhile, four demerit points in a 24-month period are converted into suspension. Two suspension points will ban a player from one Test or two ODIs or two T20Is, whichever comes first. A demerit point sustains for 24 months and is expunged after the end of the period. Meanwhile, South Africa defeated India in the third T20I match by 9 wickets to level the series 1-1 after the end of three-match series.