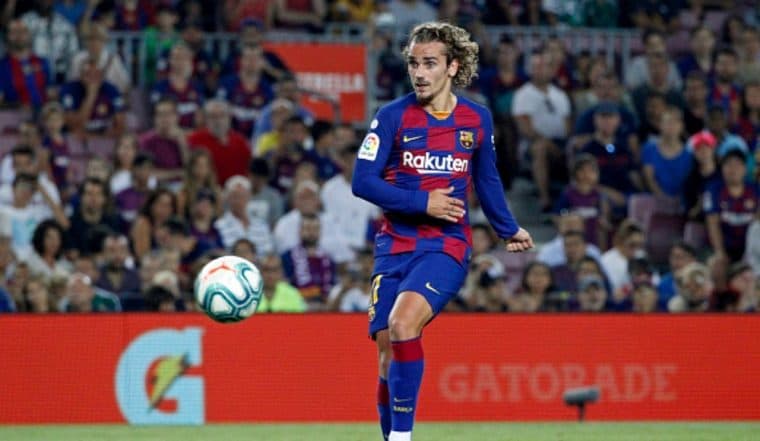 Barcelona started off the La Liga 2019 tournament on a sour note as they lost to Ath Bilbao by 1-0 last week. However, the woes of the first game did not stay for a quite a long time with the team as they made a drastic comeback with a thumping win against Real Betis. Hosted at the backyard of Barcelona, the hosts clinched a 5-2 win against Real Betis as they entered the match without their star Lionel Messi who has been missing in action due to a calf injury. In absence of the Argentina star, it was Antoine Griezmann who played a vital role in the team's victory. Griezmann recently got transferred to Barcelona from Atlético Madrid. I Tried to Copy Messi and LeBron, Says Griezmann After Barca Double. 
Griezmann netted a couple of goals during the game and inspired the team to win. Real Betis' Nabil Fekir was the one who netted the first goal at the 15th minute. The former Madrid player produced an equaliser at the 41st minute and scored another one at the 50th minute. Post this, the Spanish giants were blazing guns in the game as they netted three goals in the span of 30 minutes. Carles Perez, Jordi Alba and Arturo Vidal netted a goal at 56th, 60th and 77th minute respectively. In reply, Real Betis scored one goal at 79th minute but that just wasn't enough.
Needless to say that the Barcelona fans were quite happy with new recruit who slammed a couple of goals during the game. The fans hailed Griezmann on social media. Check out a few tweets below:
The official account of Barcelona also hailed Griezmann.
The first magical night for @AntoGriezmann at the Camp Nou ✨ pic.twitter.com/HMRET0CEtd

— FC Barcelona (@FCBarcelona) August 25, 2019
La Liga.
💙🌟❤ @AntoGriezmann announced himself as an @FCBarcelona player with two goals tonight!

All the highlights from a 7-goal thriller in #BarçaRealBetis... 👇 pic.twitter.com/23xjYJfXQR

— LaLiga (@LaLigaEN) August 25, 2019
This Internet User Seems Really Happy
Griezmann!!!! What a first goal!! VAMOSS

— Sandeep Pendyala (@_SoapMacTavish_) August 25, 2019
Yet Another Meme
Antoine Griezmann to #LaLiga teams and all of Barcelona 's opponents around Europe this season: pic.twitter.com/NiIrfLRv2A

— Ediye (@iamOkon) August 25, 2019
Griezmann the Legend
YHEASS, GRIEZMANN! YEASS!!!,.. CEAP GOING,..💪💪👑🤙LEGENDARY,.. ITS YOUR LEGACY!!! COME OOOON!!!! WHOOOAAAHT!!!!THE_FUUUUCK!!!👑WOOOHAAAA!!!! pic.twitter.com/LZ1c0o2map

— @DJLEGANDARY (@DJLEGANDARY_1) August 25, 2019
Live it up.
Live it up. @KingJames @AntoGriezmann pic.twitter.com/mgKnEnO0tT

— José (@josepintoj) August 25, 2019
After the game, Antonie Griezmann said, "We played a great game with many chances, we have enjoyed and hopefully it will always be like that, we have improved a lot after Bilbao." Barcelona will next play against Osasuna in the away game on August 31, 2019.