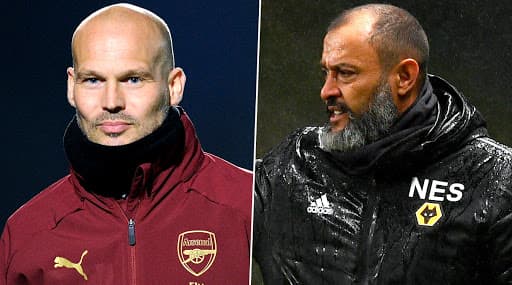 Arsenal manager Unai Emery is on the brink of a sack after his side faced yet another defeat which took their winless run to seven games. Thousands of fans stayed away from the home fixture against Eintracht Frankfurt as they have lost complete trust in the Spanish manager. The Gunners were shocking in their 1-2 defeat but it is their style of play that is a reason for the management to worry about. In the second half, the players showed no desire to take on their opposition and it does look like Unai Emery has lost the dressing room completely. Arsenal Crushed by Eintracht Frankfurt 2-1 in UEFA Europa League 2019-20.
If Unai Emery is to be sacked by the Arsenal board, which is now a matter of when rather than if, who are the prime targets the club will go for as the Spaniard's replacement. Let us have a quick look.
Freddie Ljungberg
Club legend Freddie Ljungberg is currently no 2 at Arsenal and could be handed over the reign of the club before their next league game. The former Gunner midfielder has coached the club's Under 15 and Under 23 sides and knows the young players at the club well. If a high profile name is not recruited, Ljungberg is sure to have the Arsenal job albeit temporarily.
Nuno Espirito Santo
There are reports in media linking Wolves boss Nuno Santo with the Arsenal job, though he has refused to comment on them. The Portuguese gaffer is known to build strong squads with a tight budget and is a man with immense tactical acumen. Wolves' performances against top sides is a testament to what he can build at Arsenal.
Massimiliano Allegri
Former Juventus manager Allegri has been out of a job for a while but it is said that he is waiting for the right club to turn up. He has been linked strongly with Manchester United which is said to be his preferred destination. Arsenal will have to pull off a miracle if they are to get the signature of the Italian manager. His success with Juventus makes his CV one of the best in Europe.
Niko Kovac
He was recently sacked by Bayern Munich after results did not go the way of the German champions. Niko Kovac can be a long term prospect at Arsenal considering he is young and full of ideas. Even though he was removed from the Bayern job, the players spoke highly of his training sessions which helped improve the level of young squad members.
Mauricio Pochettino
Anything is possible in football and having managed Arsenal's North-London rivals for five and a half years, Mauricio Pochettino is linked with another. There is no denying that Poch is a wonderful manager but his links with Tottenham Hotspurs may prove to be his undoing in the Arsenal race.
Arsenal will have to move quickly if they are to sign some of these much-sorted names and put Unai Emery out if his misery. The Gunners are playing relegation football at the moment and could be in serious trouble if they do not fix up things.