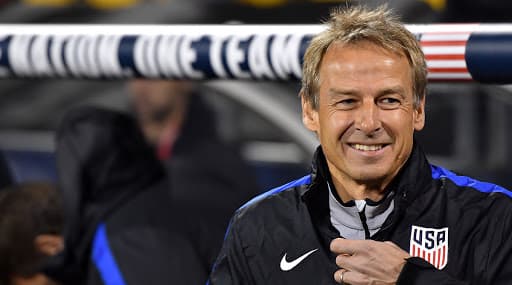 The second half of the Bundesliga 2019-20 campaign will restart on January 18, 2020 (Saturday) as the German clubs are back from the winter break. But controversy surrounds the Hertha Berlin vs Bayern Munich clash as the Hertha's head-coach Jurgen Klinsmann does not have a valid coaching license. Current Berlin manager and former Bayern player may miss the clash due to the unavailability of a proper trainer's license. The 55-year-old and his club have been asked by the German Football Association (DFB) to provide an effective license before they restart their top-flight campaign. Sarpreet Singh Becomes First Player Of Indian Origin to Play For Bayern Munich.
According to a report from German newspaper Bild, Hertha Berlin manager Jurgen Klinsmann does have a valid training license as of now and could miss his sides clash against record champions Bayern Munich on Sunday. The former US national team coach had received his license in 2000 as a part of a special DFB course, which needs to be renewed every three years. According to the license regulations of DFL (German Football League), head coach of a licensed club must have a valid soccer teaching license from DFB or an equivalent valid international coaching license. The DFB believe that a quick solution to the problem is expected as Tobias Haupt, head of DFB academy, said 'We know that he has undergone further training in recent years, for example in Mexico and Brazil, but where less attention was paid to certificates. Together with DFL and Jurgen, we will discuss specific measures'.
See Tweet
Headline from today's Bild pic.twitter.com/i9F5RZHuWf

— 𝐈𝐀𝐍 𝐏𝐀𝐔𝐋 𝐉𝐎𝐘 (@JOYPAULIAN) January 15, 2020
The Hertha boss said that he forgot his documents in the United States in November when was appointed as the new Berlin manager but is doing everything he can to get the required evidence in time. In case Jurgen Klinsmann cannot provide his license before the game on Sunday he could be represented by his assistant Alexander Nouri on the bench for the game against Bayern.