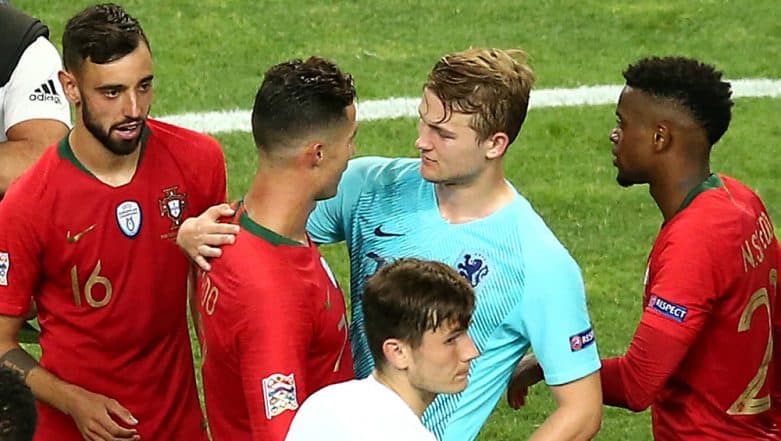 Teenage centre-back Matthijs de Ligt is a hot prospect in international football at the moment. The 19-year-old Ajax FC captain is being chased by a host of top European clubs that includes Paris Saint-Germain, Juventus, Manchester United and Juventus. But now clubs are finding it difficult to sign the defender. It seems that Cristiano Ronaldo has assumed the role of an agent to help his club get an upper-hand on the teenage prospect. Portugal Beat Netherlands 1-0 to win the Inaugural UEFA Nations League 2019.
De Ligt himself admitted that Ronaldo asked him to join Juventus after Portugal beat the Netherlands 1-0 to lift the inaugural UEFA Nations League Trophy in Porto on Sunday. Ronaldo was caught on camera approaching De Ligt after the final whistle and the two even engaged in small laugh between themselves.
"He asked me to come to Juventus. I was a little shocked by that question. That's why I laughed. I didn't understand him at first," De Ligt confirmed to Dutch publication NOS.
"I was a little shocked by that question, that's why I laughed. I didn't understand him at first. Just after the game you just feel bad that you've lost, that's all you're thinking about," added the teenager.
De Ligt has been speculated to join Barcelona with Juventus said to have an outside chance of signing the Ajax captain. But despite confirming Ronaldo's talk to him, the defender refused to get drawn into speculation and said that he will rethink before making his final decision.
"Now I will go on vacation, I'll think carefully about what is best for me and then I'll decide. For a young player like me, it's important to go to a club where I can play consistently. That's the main issue."
His club and country teammate, Frankie de Jong has already joined Barcelona and last week even tried to pull him towards the Blaugrana giant. "He has to make his own decisions," De Jong said after Holland's 2-1 win over England. "Of course I would like him to come to Barcelona but we will see what happens. It's up to him," said De Jong.
Portugal defeated the Netherlands 1-0 in the inaugural 2019 UEFA Nations League final to lift their second successive international title. Portugal in 2016 beat France to lift the European Championship.