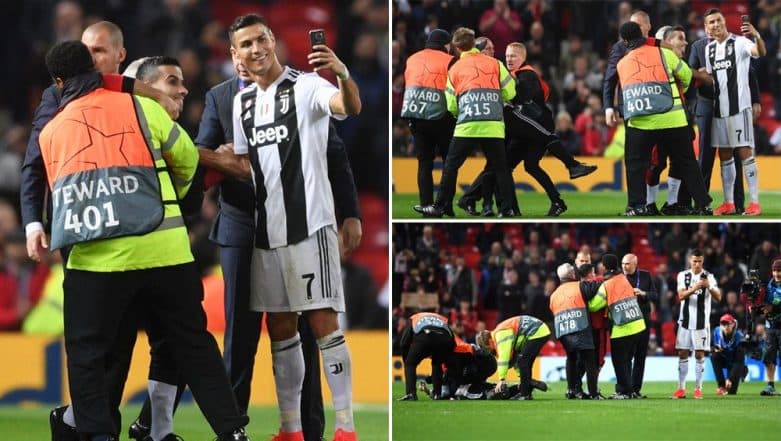 Cristiano Ronaldo's return to the Old Trafford against Manchester United for the UEFA Champions League 2018-19 was the most awaited one! CR7 failed to score against the home team but Paulo Dybala emerged to the match winner as he scored a goal against Man United at the 17th minute and thus Juventus won the match by 1-0. Fans also turned out in huge numbers to watch CR7 in action. A few over-enthusiastic fans even turned even invaded the pitch to get a glimpse of their favourite star. Manchester United vs Juventus, UEFA Champions League 2018-19: Man United Fans Sing 'Vivo Ronaldo' as Cristiano Leaves the Field After 1-0 Win (Watch Video).
An over-enthusiastic fan ran to Ronaldo four minutes into the match and he was being chased with the security. CR7 even went on to shake hands with the Portuguese football star. He even took a selfie with the fan.
Fair play, Cristiano Ronaldo 🤳🏾 pic.twitter.com/YVdOkbhLYi

— ESPN UK (@ESPNUK) October 23, 2018
Here is the video of the pitch invader running on to Ronaldo to meet him.
Cristiano Ronaldo saying "It's ok, it's ok" to the stewards about a pitch invader who wanted to meet him pic.twitter.com/hVNciO5Jbh

— Ryan Williams (@razza699) October 23, 2018
Here are a series of pictures that went viral.
A pitch invader was pinned down just before reaching Cristiano Ronaldo.

He still got a high five 🖐🏾 pic.twitter.com/qJPsQZOhwv

— ESPN UK (@ESPNUK) October 23, 2018
As Ronaldo walked back to the dressing room, his fans from Man United sang 'Vivo Ronaldo'. He was the last one to leave the pitch. Ronaldo too, posted a short message for his fans on social media. He posted a few pictures of himself in action with his teammates and wrote, " An important victory in a very emotional match for me. It was great playing at Old Trafford again. Thanks to all the fans for the reception and support."
This is not the first time that CR7 has pleased his fans by clicking a picture with them. It was during the 2018 FIFA World Cup, that the Portuguese star got off the bus to click a selfie with a kid. On several occasions during the World Cup in Russia, he even met his fans. 2018 FIFA World Cup Diaries Pics: Cristiano Ronaldo Meets his Young Fans Post His Practice in Sochi, Russia.