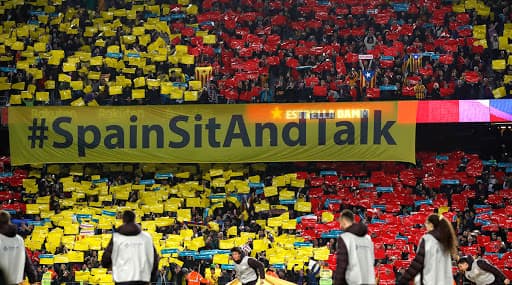 Catalan Ultras clashed with the Spanish police outside the Camp Nou stadium during the La Liga match between FC Barcelona and Real Madrid on December 18, 2019 (Wednesday). Thousands of fans inside Nou Camp held up banners of 'Spain Sit and Talk' and 'Freedom' urging the Spanish government to have a dialogue about Catalan independence. The match was supposed to be held on October 27, 2019 but was rescheduled due to the protests at that time in Catalonia. The game nearly drew around 100,000 spectators in the stadium but ended in a disappointing goalless draw, the first in 17 years. El Clasico 2019, Barcelona 0–0 Real Madrid: Twitter Reacts to First Goalless Draw in 17 Years, Labels It One of the Worst Clasicos'.
The match was not affected much by the events going on outside the Camp Nou but was halted briefly when fans threw inflatable balls on to the field containing a message for the Spanish authorities to open up a conversation with the separatist. In the video, protestors can be seen throwing plastic objects at the police, who used batons and shields to push the crowd back. Various objects were set on fire during the protests outside the stadium including some trash cans as well. After the game ended, Police had closed the south exits of the stadium where the protest took place and urged the fans to leave through the north exits for security reasons.
Watch Video
While #ElClasico was underway, pro-independence protesters clashed with police just outside Camp Nou. pic.twitter.com/FdU0tVK6G0

— ESPN FC (@ESPNFC) December 18, 2019
According to the reports, Protesters had begun gathering outside the stadium four hours before the kickoff, nearly 5000 people surrounded the Camp Nou. The game ended in a 0-0 draw, leaving Barcelona at the top of La Liga due to a superior goal difference.