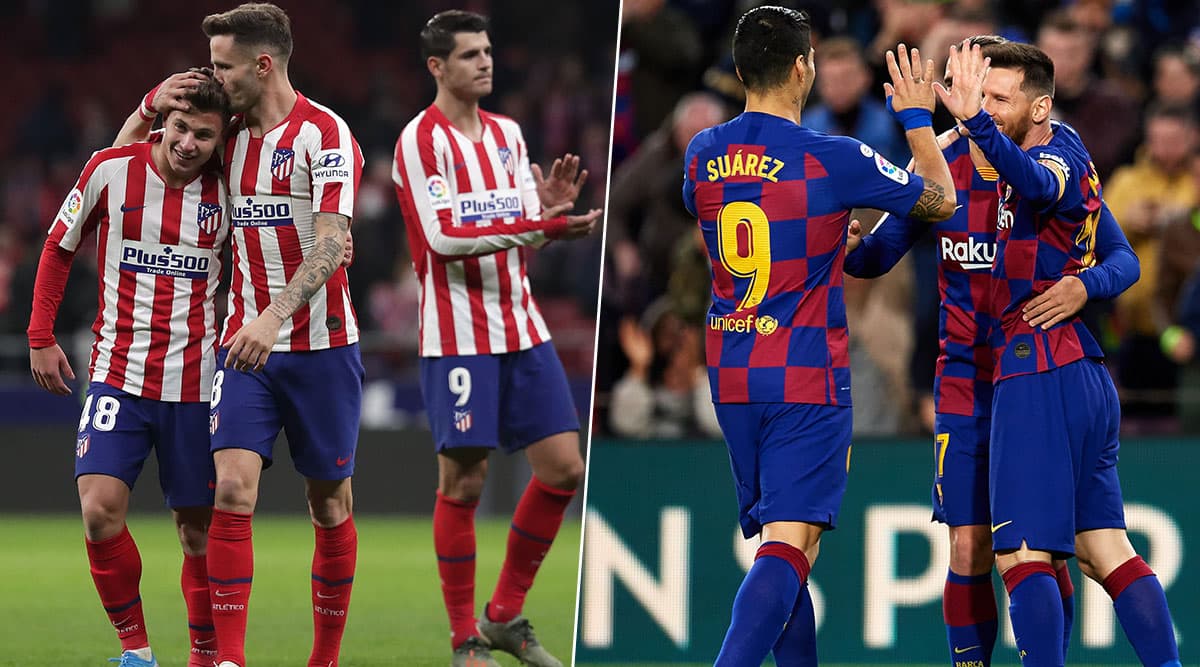 Reigning champions FC Barcelona will start its Supercopa de Espana title defence when they meet Atletico Madrid in the semi-finals of the 2020 Spanish Super Cup. Both teams find themselves in new territory with the Spanish domestic cup competition being held in Saudi Arabia with a revamped format. Lionel Messi magic – as it has been on most occasions in between these teams – was the difference when Barcelona and Atletico Madrid met earlier in the season. The diminutive Argentine smashed home four-minutes from the whistle to guide the Blaugrana side to a win. It was FC Barcelona's 27th win over the Madrid rivals. Barcelona also lead when it comes to head-to-head records. Both teams have faced each other 50 times in history with Barcelona leading the run with 27 wins.
Barcelona are also the La Liga champions and lead the league points table. They are also unbeaten in their last 12 matches but have only once in their last four games. Against Atletico Madrid, Barcelona are unbeaten since 2016 and have won five times against their domestic rivals five times in that period. Atletico last defeated their more fancied Spanish compatriots in the 2015-16 UEFA Champions League quarter-finals. Interestingly, Antoine Griezmann had scored a double in the 2-0 victory helping Atleti overturn a 1-2 deficit. He swapped shirts to play for Barcelona last summer.
Atletico Madrid vs FC Barcelona – December 01, 2019 – Barcelona Won 1-0
The first meeting of the ongoing season. FC Barcelona had struggled at the start but the timely return of Messi from injury had resurrected them. Atletico Madrid had no such saviour to wait on and despite summer signings, the Madrilenian side had struggled. Against FC Barcelona though they started strong. Atletico hit the woodwork inside 7 minutes and forced Marc Andere ter Stegen into making two impossible saves – all in the first half. But both sides failed to find the net, courtesy some great goalkeeping until Messi decided it was time. A swift one-two with Luis Suarez followed by a left-footer in the 86th minute. Atletico were done.
FC Barcelona vs Atletico Madrid – April 06, 2019 – Barcelona Won 2-0
Another tense finish and another late decider. Barcelona won by 2-0 margin en route a La Liga title. Atletico Madrid went a man down with Diego Costa's red in the 28th minute. But a 10-man Atleti held on before Luis Suarez broke the deadlock in the 85th and Messi made it 2-0 one minute later.
Atletico Madrid vs FC Barcelona – November 24, 2018 – Match Drawn 1-1
Atletico Madrid was on course for a first La Liga win against FC Barcelona in 15 games but Ousmane Dembele spoiled the fun with a 90th-minute leveller. Diego Costa had put Atletico Madrid ahead in the 77th minute but Messi magic denied them again. Messi found Dembele and Barcelona had equalised.
FC Barcelona vs Atletico Madrid – March 04, 2018 – Barcelona Won 1-0
A Messi free-kick was the decider. Messi stood just outside the Atletico Madrid box after a foul and curled it home. The ball turned right and found the net after hitting Jan Oblak's hand on its way. Atletico failed to respond and could manage only 1 shot on target.
Atletico Madrid vs FC Barcelona – October 14, 2017 – Match Drawn 1-1
Saul Niguez put Atletico Madrid ahead at home with a terrific shot from outside the box after Antoine Griezmann had squandered two easy opportunities. But Luis Suarez killed hopes of an Atleti win with a header off a Sergio Roberto cross. The match ended 1-1.
Atletico Madrid have only beaten FC Barcelona 10 times in 50 past meetings across all competitions. They have also in all of their last 5 clashed against the same opposition in the Spanish Super Cup. Barcelona beat Atletico on away goals (match ended 1-1) to win the title in 2013. Atletico's last win came the next year when beat city rivals Real Madrid to win it.