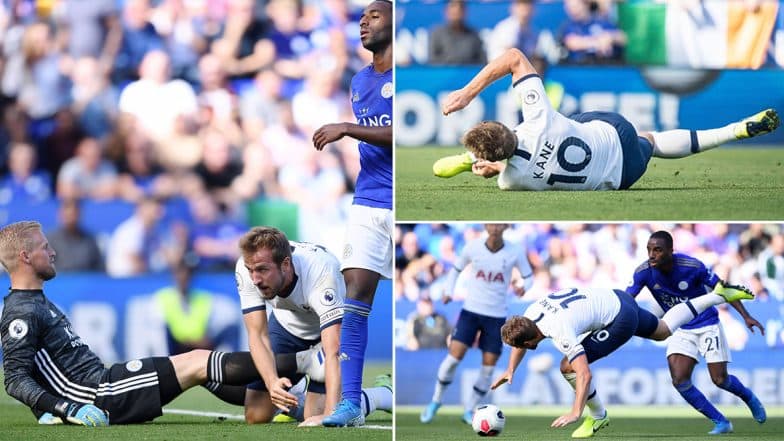 Harry Kane hell-bent the rule of physics with a world-class goal while lying on the ground. The England striker astonished the world with a fantastic finish despite falling over. Kane scored the fantastic goal during Tottenham Hotspur vs Leicester City match in the English Premier League (EPL) on September 29, 2019 (Saturday). Kane, who was a tremendous scoring record against Leicester, set social media on fire with a totally unconventional yet fantastic finish against Leicester at the King Power Stadium.
Kane scored this astonishing yet world-class goal in the 29th minute of the Tottenham Hotspur vs Leicester City clash in the Premier League. Kane received a reverse pass from teammate Heung-Min Son just outside the penalty box as Spurs looked to launch a quick counter-attack. But the England striker was fouled from behind by Leicester centre-back Çağlar Söyüncü as he whizzed past three defenders of the home team to get into the Leicester penalty box.
Harry Kane Scores a Worldie
Top finish from Harry Kane to make it 1-0 vs Leicester pic.twitter.com/R3pEhdpnJN

— Tottenham Tickets (@TicketTottenham) September 21, 2019
Take Another Look
Harry Kane Goal, take a bow. pic.twitter.com/wLVzNh3Ro6

— Kieron Kelleher (@kieron_kelleher) September 21, 2019
A Closer Look at Harry Kane's Shocking Goal
Harry Kane giving buyers what they wanted...LOL😉#LEITOT#FPL pic.twitter.com/HNJHUxG6Me

— The Umpire KE™ (@its_umpire) September 21, 2019
The 26-year-old forward initially tripped, lost his balance and nearly lost his ground as a result of the foul but did not dive to the turf. Instead, he carried on with the ball and scored an amazing goal just as he fell to the ground. He was already lying on the turf when Kane kicked the ball past Leicester goalkeeper Kasper Schmeichel to give Tottenham a 1-0 lead in the EPL clash.
Harry Kane Bent the Rule of Physics
"Harry Kane has bent the rules of physics." - @JonChampionJC 💙👏🏻

🥰🔥😍#THFC #COYS pic.twitter.com/9OLBStbLpF

— Last Word On Spurs🎙 (@LastWordOnSpurs) September 21, 2019
World-Class Finish
Look what happens when Harry Kane tries to stay on his feet instead of diving.

What a finish. pic.twitter.com/ScCCI1f1KM

— Dave (@JoeDaveGomez) September 21, 2019
That Pose Though
Harry Kane be scoring like this and Lukaku can't score even if he's balanced and has the infinity stones #LEITOT pic.twitter.com/RVwbee9iIM

— ALAGBADA, †hε B๏MB™ ¯\_(ツ)_/¯ 🇳🇬🇬🇭 (@AlagbadaBomb) September 21, 2019
There Will Be No Second of This
That is astonishingly good composure from Harry Kane, and a type of goal you almost never see.

— Daniel Storey (@danielstorey85) September 21, 2019
Unbelievable
How did he score that? Unbelievable from Harry Kane! 🔥#LEITOT pic.twitter.com/5b6NFQSaHS

— TREQUARTISTA (@TheSporTalk) September 21, 2019
Different Angle
This edit from @5foot11newt is absolutely amazing!

Harry Kane👌 pic.twitter.com/JZw749bg3R

— The Spurs Web ⚽️ (@thespursweb) September 21, 2019
No Idea!!
How am I supposed to tell my kids that Harry Kane scored from this position? pic.twitter.com/WWEdUcwWv7

— BenchWarmers (@BeWarmers) September 21, 2019
Harry Kane Can Score From Any Pisition
Harry Kane scoring from the floor 🤯 pic.twitter.com/Tq6FBl5ITw

— B/R Football (@brfootball) September 21, 2019
Can't Just Imagine
Imagine I told you the next thing Harry Kane did from this position was score. Madness @SpursOfficial 🌪 pic.twitter.com/o5u8tzeeAS

— Dugout (@Dugout) September 21, 2019
Impossible Made Possible
Scoring the most impossible goal... the names Kane... Harry Kane!

— Jaysen Baboolall (@djsqueeze007) September 21, 2019
The goal initially seems comical but on closer look, one can gauze the improvisation and adjustment Kane made to shovel the ball into the back despite being literally down on the floor while making the shot. The England international must also be credited for not going down despite being fouled inside the penalty box.
Had he slumped to the turf, Kane could have still received a penalty for the foul. He has recently come under heavy criticism for looking to dive at every opponent touch inside the "D". But must be praised for his sheer athleticism and presence of mind. The goal was Kane's 14th goal against Leicester in his 13th game against them across all competitions.