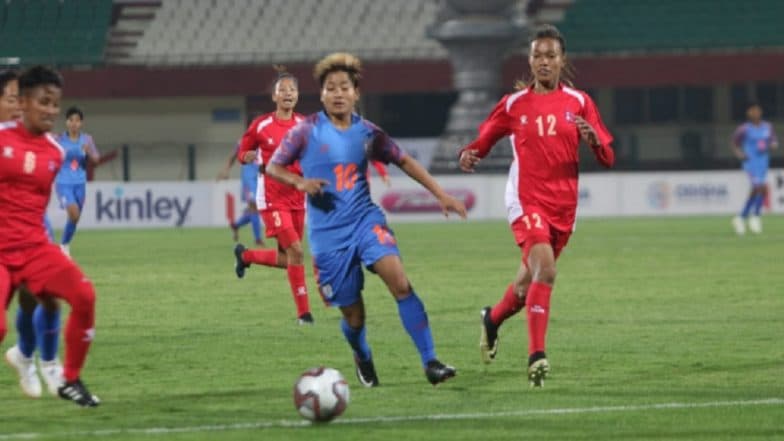 Bhubaneswar, February 12: Indian women's football team suffered a 1-2 defeat at the hands of Nepal in their second game of the ongoing Hero Gold Cup here at the Kalinga Stadium on Monday. Nepal's Sabitra Bhandari struck two early goals to breeze past the Indian eves. Although Ratanbala Devi of India hit the target from a free-kick, it couldn't deter the away team from gathering all three points to stay afloat in the four-nation championship. After the second game day, Myanmar stay firmly seated at the top of the table with 6 points from 2 games whereas India and Nepal are locked in second place with 3 points each. Iran are yet to open their account having played an equal number of games.
The Nepalese forward Sabirtra Bhandari took only four minutes to score her first goal followed by another two minutes later. Indian skipper Aditi Chauhan made a terrible mistake grabbing a cross from the right flank which eventually left Sabitra an easy opportunity to score her second and she did no mistake pushing the ball into an open net. Maymol Rocky's girls changed the gear in their quest to find the target and Dalima Chibber could have hit the target form a long-ranger but her effort missed the target by a whisker. Hero Gold Cup 2019 Kicks-Off, India Women's Team Take on Iran in Opening Game at Kalinga Stadium, Bhubaneswar.
84' Ratanbala Devi strikes it. What a thunderous free-kick has it been!!! Kudos to you, girl.

🇮🇳 1- 2🇳🇵#INDNEP #BackTheBlue #ShePower #BackTheBlue pic.twitter.com/iXIq1hFwQZ

— Indian Football Team (@IndianFootball) February 11, 2019
In the 40th minute, Sanju's lay-off was collected by Jabamani Tudu but her cross proved to be too heavy for onrushing Anju Tamang. India got another chance in the added minutes of the first half but Anju could rattle only the side-netting.India got two back-to-back chances to breach the sturdy Nepalese defence in the 73rd and 74th minute but eventually, the scoreline remained the same.
Sanju and Sandhiya, who replaced Anju Tamang in the 57th minute, coordinated well but failed to find the back of the net because of the confusion between them. A minute later, Sanju tucked in a goal but she was ruled offside.In the 83rd minute, India earned a free-kick at the top of the box owing to a handball by a Nepalese defender and Ratanbala Devi converted it exquisitely to bring some life back to the game.
Although India tried their level best to find the elusive equaliser, Nepal stood tall to leave the ground with all three points.Next, India will face Myanmar in the final game of the group stage at the same venue on February 13.
(This is an unedited and auto-generated story from Syndicated News feed, LatestLY Staff may not have modified or edited the content body)