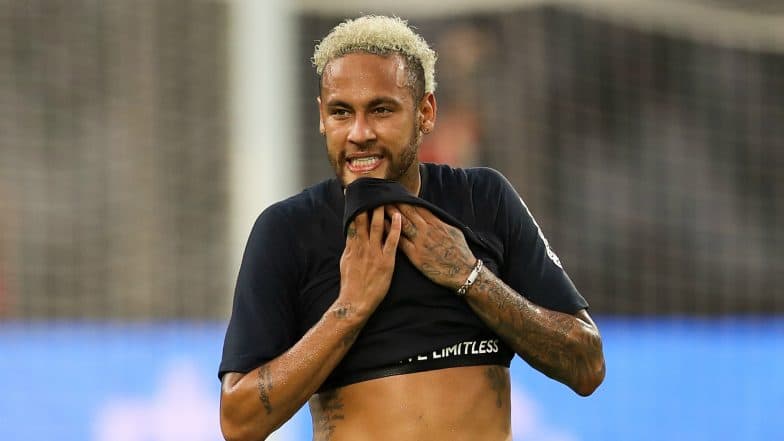 Neymar Transfer Latest News Update: Wantaway Paris Saint-Germain FC (PSG) superstar Neymar has his heart set on a move to former club Barcelona, but it seems his current club are playing hardball. There were strong rumours in French media about the Catalonians securing a massive breakthrough in the Neymar deal with a loan offer being agreed. But now it seems, the forward is back to square one. Barcelona's loan plus buy next year deal has been rejected by the French outfit on both financial and ethical grounds. The Spanish champions are desperate to add Neymar to their ranks after loaning out Phillipe Coutinho and inability to trust Ousmane Dembele. PSG Fans Display Banners Asking Neymar to 'Get Out of the Club' During PSG vs Nimes Game.
The formula adopted by PSG is clear that although they have a complete breakdown in relationship with Neymar, they cannot suffer a business loss. Back in 2017, when PSG paid a world-record fee of 222 million to acquire his services, they expected their superstar to deliver. But it has been bits and pieces show by the Brazilian so far with plenty of controversies. The UEFA Financial Fair Play guidelines have kept both Barcelona and PSG under check, and they cannot strike a deal worth exorbitant amount. The player continues to be left out of the squad until his future is resolved, which is a loss for both parties. Neymar Transfer Latest News Update: Juventus Join Barcelona and Real Madrid in Race to Sign PSG Forward.
Neymar has agreed to terms with Barcelona but has almost similar offers from Real Madrid and Juventus. With time ticking away, the possibility of the player remaining in France appears the brightest at the moment. The PSG players do not like Neymar's attitude, and it will be interesting to see the reception he gets once he is back in the squad. PSG's sporting director Leonardo is the man calling the shots for the Parisians. If he finds Neymar's replacement in time, he might very well let go of him.