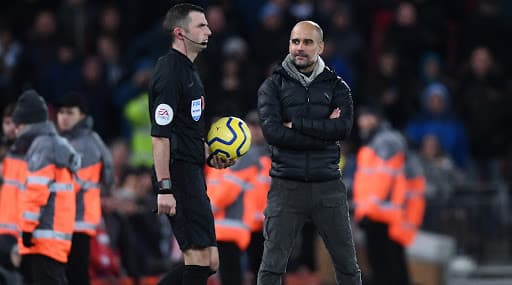 Pep Guardiola's Manchester City were defeated by Liverpool in the weekend's Premier League clash and as a result, find themselves nine points behind the league leaders. This win boosts Liverpool's chances of winning a first premier league title in 30 years. The citizens put on a good fight at Anfield but could not recover after going 2-0 down in the opening 15 minutes of the game. Pep Guardiola suffered an astounding meltdown at the touchline after a controversial decision of not to award Manchester City a penalty following Alexander-Arnold's handball. The Catalan completely lost his cool and raged at the referee. Meanwhile, Netizens had their fun with Guardiola and trolled him left, right and center for this incident. Premier League 2019–20: Liverpool Beat Manchester City 3–1, Go Nine Points Clear of Defending Champions.
Pep was not at all happy with the level of refereeing in the match as his side suffered because of some controversial decisions. City were denied a penalty just before Liverpool raced to the other end a scored. 'Ask the referees, don't ask me' said the City manager when asked about the controversial opener. Guardiola's mood further worsened when another VAR check went against his side after Sterling went down in the penalty box under pressure from Sadio Mane. After the match, Pep stormed onto the pitch to confront referee Michael Oliver and could be seen sarcastically shouting 'Thank You so Much'. Andreas Pereira and Marcus Rashford Score As Manchester United Beat Brighton 3–1 in Premier League 2019–20.
Here's How Netizens Reacted
When you get both euro millions lucky stars#PepGuardiola pic.twitter.com/cLSgSgDdUI

— VARparody (@VARcical) November 11, 2019
How Many Premier League's Pep?
pic.twitter.com/6Cn4oNYwaL When they ask Pep how many times he has won the Premier League #LIVMCI #PepGuardiola

— Siddharth Krishna (@siddhharth_k) November 11, 2019
How Many Balls Do U Have?
How many balls do u have?

Pep:#LivMNC #PepGuardiola #YNWA #epl #MLSCup pic.twitter.com/tv8viItIgl

— issa ibrahim (@ibvb899) November 10, 2019
Two More Minutes!
How many more minutes of sleep do you need? #mancityvsliverpool #PepGuardiola pic.twitter.com/ovdjLiYWwH

— Hanif Binaman (@HanifBinAman) November 11, 2019
Savage Pep!
When Refree literally fucks your team and you are more savage enough #LIVMCI #PepGuardiola #PL pic.twitter.com/9A3nZTXlaw

— Crazier Than Moxley (@RantAboutShits) November 11, 2019
Every Wife to Her Husband
Every wife to their husband at some stage in their marriage. #PepGuardiola

You left the toilet seat up not once, but pic.twitter.com/gXnGbrfjSm

— Jaybeethen (@jaybeethen) November 11, 2019
Two goals from Fabinho and Mo Salah in the first thirteen minutes of the game put the Merseyside team in driver's seat before Sadio Mane sealed City's fate with a diving header in the 51st minute. David Silva pulled one back for City in the 78th minute but it was too little too late for City. A third defeat in eight games leave the Citizens in fourth spot, nine points behind the leaders Liverpool. Liverpool still have a long way to go this season but look destined to win their first-ever Premier League title.