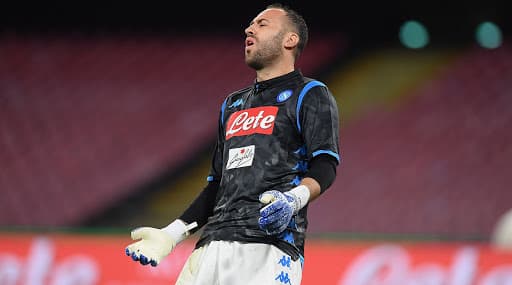 Former Arsenal goalkeeper David Ospina made a catastrophic error against Lazio in a Serie A encounter on Saturday night. This mistake cost his side the game as league's leading scorer Ciro Immobile pounced on the keeper's howlers to open the scoring in a tightly contested game. This victory takes Lazio's winning streak to a club-record 10 games as they inflicted a second consecutive defeat to the last season's runner-up Napoli. This strike also extends the Italian forwards tally to 20 goals in 19 games this season, six ahead of his closest rival Romelu Lukaku. Zlatan Ibrahimovic Scores on His Full Debut As AC Milan Beat Cagliari 2–0 in Serie A 2019–20 Clash (Watch Video).
David Ospina was guilty of making a calamitous error in Lazio vs Napoli clash as the Columbian shot-stopper gifted the third-placed team a crucial 1-0 win. In the 82nd minute of the game, Ospina received a back pass and the 31-year-old decided to get the ball under his control. But the former Borussia Dortmund forward Ciro Immobile was relentless as he pressed the Napoli keeper and hurried him into making a game-changing mistake. The Italian forward snatched the ball away from Ospina before curling a right-footed shot into the near corner of the net to give his side a tenth straight win. This victory means that Lazio have put some daylight between them and Roma on the fourth position and are now just four points behind league leaders Inter Milan. Cristiano Ronaldo Skips Juventus Team Dinner Ahead of Serie A Clash Against Roma.
Watch Video
Ospina'nin hatası İmmobile'nin affetmeyeşi çok ama çok önemli bir 3 puanın hanemize yazılışı. pic.twitter.com/Pdtopy1JnA

— Stoper Sokrat #Simoneİnzaghi (@stopersokrat) January 11, 2020
Ciro Immobile has been unstoppable this season and his form has been the main reason for Lazio's rise in the Italian league. Both Immobile and Lazio have their eyes set on the game against Sampdoria on January 18, 2020 (Saturday) as they look to continue their dream campaign. Napoli, on the other hand, are in all sorts of trouble at the moment as after finishing second last season they are tenth at the moment and face record champions Juventus in the coming weeks.