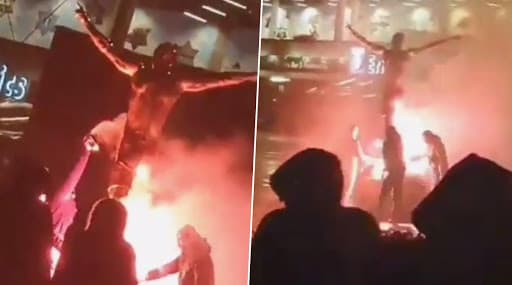 Zlatan Ibrahimovic's legacy at Malmo appears to be in shambles as a statue devoted to the striker was set ablaze by Malmo faithful following the news that he had become the co-owner of rivals Hammarby. In October, Ibrahimovic was honoured with a nine-foot statue made by Swedish artist Peter Lindle, outside Malmo stadium, for the successful years he spent at the club. The news of him owning a rival club did not go well with the fans of his first-ever professional club and some Malmo ultras can be seen burning his statue by pouring some lighter fluid and using flares to set it alight. Zlatan Ibrahimovic Becomes Co-Owner of Hammarby, Buys Shares in the Swedish Club After Parting Ways With His Former Team LA Galaxy.
Ibrahimovic played for Malmo from 1999 to 2001 and scored 16 goals in 40 appearances for them. Zlatan announced being the co-owner of Hammarby earlier this month and this news was not taken well by the Malmo fans. Along with setting his statue on fire many fans vandalized his house in Stockholm, spray painting 'Judas' across the door. Earlier in the day, furious Malmo faithful had also hung a toilet seat from the statue's arm and also wrapped a blue sheet on its head. Kaveh Hosseinpour, vice chairman of Malmo supporter's group MFF, expressed the disappointment among the fans' regarding their hometown 'Hero'. 'A betrayal became a betrayal and a provocation,' Kaveh told The Associated Press. 'So he basically stuck a knife in our backs, and then he came along with a sword and chopped off our heads.' He added. Zlatan Ibrahimovic to Join Swedish Club Hammarby, Appears to Make an Announcement on Social Media (Watch Video).
Watch the Video
Statue Vandalised!
Tifosi #Malmoe contro 'giuda' @Ibra_official, statua incendiata https://t.co/9zW0Ytg7Uf pic.twitter.com/tQ8PDFm95j

— Adnkronos (@Adnkronos) November 28, 2019
Judas!
Zlatan Ibrahimovic has been labelled 'Judas' and seen his home in Stockholm vandalised after his decision to invest in Swedish side Hammarby.

▪️ A toilet seat and a plastic bag were used to vandalise the statue

— GIBET | Gillionaire (@mygibet) November 28, 2019
The former Manchester United, FC Barcelona and Inter Milan star is a free agent this January as his contract with MLS club LA Galaxy has expired. During his time there, the Swedish forward scored 52 goals and assisted 17 times in 53 starts for Galaxy and was arguably the biggest star in MLS. He won the MLS Newcomer of the year award in 2018 and was selected twice for the MLS Best XI.