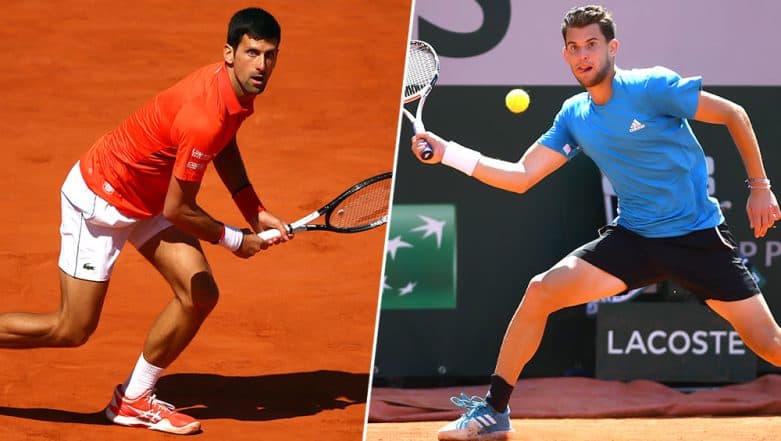 World No 1 Novak Djokovic's semi-final match against Dominic Theim became a talking point not only on Twitter but also in Tennis circles. However, Djokovic's behaviour during the match came under severe criticism by tennis fans on Twitter, as the World No 1 was accused of being rude with the umpires during the match. Djokovic lost the match to Thiem and his dream for winning the second career slam came to nothing after the loss to Theim. The Austrian ended Djokovic's 26 match winning streak in Grand Slams. Djokovic lost to Thiem in five sets by 2-6, 6-3, 5-7, 7-5, 5-7 and the match was played over two days due to rain interruption. Novak Djokovic's Interview as a 7-Year-Old Proves He is a True Champion, Watch Video Where He Says, 'Tennis is a Duty for Me'.
The World No 1 and top seeded Novak Djokovic was chasing his second Grand Slam at Roland Garros and was also pursuing the calendar slam or 'Novak Slam' after having won the Wimbledon trophy in 2018, US Open 2018 and Australian Open 2019. However, his bid to become only the second player after Rod Laver to win a career slam twice ended after Austria's Dominic Thiem beat the World No 1 Djokovic. Novak Djokovic Birthday: 'Djoker' Turns 32, Video Proves Why the Serbian Tennis Great Is King of Hearts.
Read the Twitter Comments Below
BROKE: Djokovic is using the rain as an excuse to get momentum back

WOKE: Tsitsipas can control the weather and wants Thiem to lose so he can crack the top 5

— rach ☀️ (@rach__mz) June 8, 2019
Djokovic's Behaviour With Umpires Also Came Under Scanner by Fans
"Have you ever played tennis?" says Djokovic to the umpire. "Have you umpired at top level?" should have been his response. Pathetic petulance from Djokovic. #RG19

— Geraint Jones (@jones_itfc) June 8, 2019
Fans Were Surprised to See Djokovic Behave The Way He Did
Warning Mr. Djokovic for unsportsmanlike conduct

— José Morgado (@josemorgado) June 8, 2019
A fan took potshot at Djokovic and Kyrgios 
Djokovic : I tried everything I could to avoid this defeat but I failed .

Kyrgios : if only I had this power to postpone my matches ,I might have been a grand slam champ by now

— Arnav Singh (@Arnavv43) June 8, 2019
Some are calling Djokovic a lousy loser
Dominic Thiem the tamer of Djokovic the lousy loser. He did everything to spoil Thiem party but the young man was ready.

— babaDEE's House,Gain machine. push Notifications (@SHOMOPE) June 8, 2019
The 32-year-old Novak Djokovic has won 15 Grand Slam titles so far and is number three on the list of players with most number of Grand Slams in Men's Singles tennis. The Serbian great is only behind Rafael Nadal (17) and Roger Federer (20) for most number of Grand Slams titles. However, the loss to Dominic Thiem in the semi-final of French Open today, on June 8, 2019, has ended his run this year at French Open.
For Dominic Thiem, he could not have asked for a better outcome. The Austrian will face Rafael Nadal, the 11 time French Open winner on Sunday in the final. Thiem lost to Nadal in last year's French Open final. Nadal, on the other hand, beat Roger Federer of Switzerland to book a place in record 12th Roland Garros final.