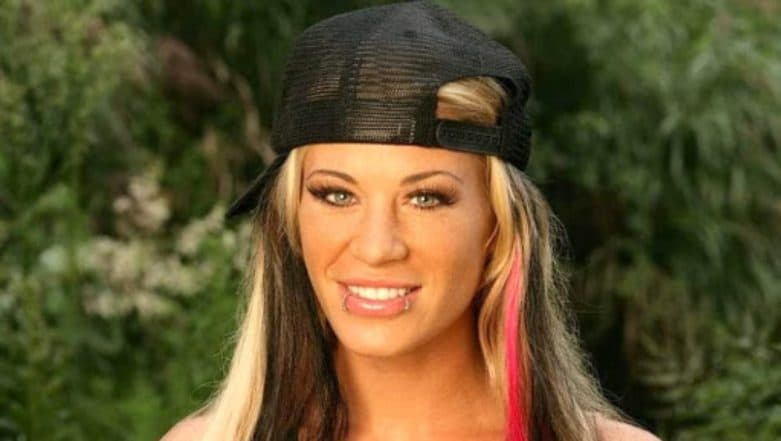 Former WWE star Ashley Massaro died at the age of 39 at a Long Island hospital in New York on Thursday. Although the Suffolk County Police put out a statement that Ashley died of "non-criminal causes", the exact reason for her untimely death is still unknown. WWE Wrestler Ashley Massaro Dies at 39; Reason of Former SmackDown Star's Death Unknown.
The former SmackDown wrestler, who entered WWE after winning the federation's 2005 Raw Diva Search, left behind a teenage daughter. She was part of the WWE business from 2005-2008. We take a look at five lesser-known facts about the former wrestler and Playboy model.
1. Ashley hailed from a family of wrestlers:
Born in New York in 1979, Ashley hailed from a family of wrestlers. Her father, brother and uncle were all amateur wrestlers, meaning she had wrestling blood running in her veins. Therefore it was not a surprise that growing up, she took up wrestling as a career.
2. Ashley Massaro was unmarried:
She dated fellow WWE star Matt Hardy back in 2005 and was also linked to another wrestler Paul London. But Ashley Massaro was not married to anyone. She raised her daughter Alexa, who was born in 2000, as a single parent. She had also left WW in 2008 due to her daughter's sickness. Ashley had once famously said, "I can't be on the road with WWE when my own flesh and blood needs me," when she had asked WWE to release her.
3. She was part of a famous American Reality Shows:
Ashley Massaro was part of CBS' reality show Survivor: China season 15. She was, however, voted out after just six days on the show. In addition to it, she also appeared alongside John Cena and Dave Bautista in an episode of another reality show, Extreme Makeover: Home Edition.
4. Ashely Massaro was a popular model:
Ashely was a popular model and appeared in the cover of many well-known magazines. She was crowned the Miss Hawaiian Tropic USA in 2002 and Miss Hawaiian Tropic Canada in 2004. The late 39-year-old also appeared in the magazine covers of Playboy, FHM, Stuff and Maxim. She also did an advertisement for the popular Japanese brand Yamaha.
5. She died 10 days before her 40th birthday:
Ashley Massaro would have been 40-year-old on May 26. But sadly passed away just 10 days before her 40th birthday.
The WWE family was shocked about the untimely death of one of their former star. The federation offered their condolences to her family as did many of her former colleagues.