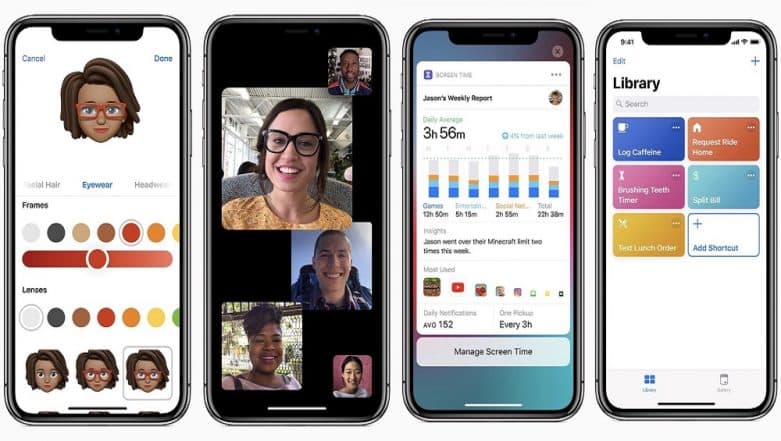 We previously mentioned that Apple has started rolling out the new iOS 12.1.2 update to all the iPhone users. The Apple iPhone 2018 series, which includes iPhone XS, XS Max and XR runs on the latest iOS out-of-the-box. However, the company has confirmed that other iPhones like iPhones X, iPhone 8 Plus, iPhone 8, iPhone 7 Plus, iPhone 7 & others will also get the iOS 12 update. Recently introduced iOS 12.1.2 update brings tons of new features such as improved performance, new addition to Animoji characters and customisable option called MeMoji, security patches, bug fixes and more. Apple iOS 12.1.2 Update Causing a New Cellular Data Cut Off Problem for iPhone Users; Check Out Twitter Reactions.
Apple users opting to download the OTA update, kindly note that the iOS 12 update comes around 2.77GB size, so it would be better to make a backup of data as well as keep a charge of the battery above 50 percent during the update process. As for the list of compatibility devices, the new iOS 12 will be supported by the following products. iPhone models ranging from iPhone 5S to iPhone XS Max, whereas, iPads from iPad mini 2 to 2nd generation iPad Pro and lastly, iPod Touch 6th Generations. Best Five Smartphones Launched During 2018 in India; Apple iPhone XS Max, Google Pixel 3, OnePlus 6T, Samsung Galaxy Note 9 & Huawei Mate 20 Pro.
Here are the top new features and improvements to explore in the latest iOS 12.
Performance Boost: With the new iOS 12, users can experience a 70 percent boost in camera, 50 percent faster keyboard display and up to two times more speed in launching apps under a heavy workload.
FaceTime Update: The iconic video-calling application that the company designed for smooth and uninterrupted transmission can now connect up to 32 people at one session. Also, this new update lets users understand which person is conversing by enlarging the video tile in real-time.
MeMoji: A much more similar application to Animoji, but this app allows the user to customize their animated avatar to the detail of one's own liking, for example setting hairstyles, face colour, head accessories, and even minute changes like eye colour, facial hair and much more. With MeMoji, users can record and send, a 30-second video clip in messages and chats, also, the feature can be used during FaceTime too. iPhone Price Cut: Apple Slashes Prices of iPhone X, iPhone 8 and 8 Plus After iPhone XS Launch.
Animoji Update: The fun-filled app that now other smartphone companies are adopting with their twist of changes. Introduced last year in the iOS 11, gets some more characters to play with this time, like Koala, Tiger, Ghost, Dragon and T. Rex.
Camera Effects: This time Apple introduced a really cool feature or effect, which allows users to set or change the depth of focus and the intensity of background blur on photographs even after capturing it. Animated text effects, filters and fun stickers can now be added on images taken from the camera gallery and users can post directly on messages and FaceTime. Apple iPhone XS Max vs iPhone XS vs iPhone XR: Prices, Specifications & Features in India & Comparison.
Apple AR: Showcased in the Apple event 2018, the company has introduced various AR functionalities and capabilities for users and developers. With ARKit 2, allows developers to make much more immersive augmented reality applications and can share them easily among other people through AR app store. With the new implementation of the Measure app in AR app store, users will now be able to gauge the length, dimensions and also predict the trajectory of an object in the real world. The AR experience can also be shared among other people simultaneously.
Screen Time: Apple wants its users to know how much time they are spending their device and specifically on which. This feature allows individuals and parents understand their or their kids' usage and help them monitor it.
Revamped Notifications Bar: The new iOS 12 has fine-tuned its UI, making it easier for users to swipe notifications and alerts. With the latest update, notifications from various apps will now be grouped in a specific manner to its type, for example all messages will be clustered together, whereas twitter feeds, calendar dates, Facebook feed etc. will be grouped separately, so that it will allow users to see an organised pattern, making it simple to navigate through.