Globenet, a leading wholesale provider of telecom infrastructure in America has partnered with social media giant Facebook to create a new link of connection between Brazil and Argentina. The project called Malbec subsea cable was announced back in the month of May, involves a 2,500 km cabling system that will go under the sea. The cable will connect Argentina's capital of Buenos Aires with São Paulo and Rio de Janeiro in Brazil and will be co-owned by GlobeNet and Facebook. Twitter Introduces A New Audio-Only Broadcasting Feature For iOS.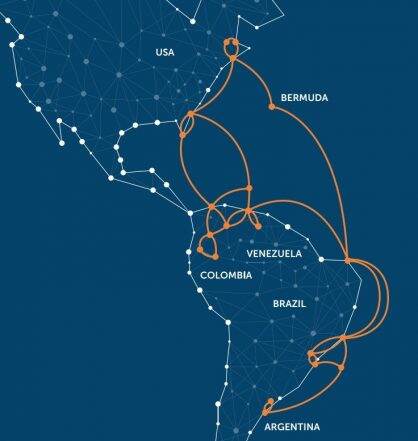 This new subsea connection will provide a seamless connection between South America and the United States. It will be the first submarine route that will reach Argentina since the year 2001. Jack Ma to Retire from Alibaba: Net Worth and Future Plans of China's Richest Man.
Designed to connect Brazil and Argentina, Malbec will also serve for improving connectivity between US and Southern America with the help of GlobeNet's broader subsea cable infrastructure. As majority of Facebook servers are located in US, it is very difficult to transfer data from the core servers. Thus , this new infrastruture will be a key step for the American tech-giant that will improve the speed as well as quick data transfers from core servers to Argentina.
GlobeNet said in a statement that, "The new infrastructure will provide seamless connectivity between the Southern Cone of South America and the United States." Millennials Are Deleting Facebook! 44 Percent of Youngsters Have Already Quit The Social Media Platform, Finds Pew Study.
Last year, Facebook and Microsoft came together for completing 4000 miles transatlantic internet cable Marea that connected Mainland Europe with North America. Previously, a news emerged in the market that Facebook also invested in an 8000 mile cabling between US and Hong Kong. Infrastructure is a key component for Facebook as the tech-giant needs to deliver lag-free services such as live-streaming, messaging as well as VR.
The new Malbec cable is speculated to be operational by the year 2020, and the firms believe that it will nearly double the present international capacity which is delivered to Argentina. GlobeNet CEO Eduardo Falzoni said that, "Argentina deserves state-of-the-art infrastructure to satisfy the pressing demands of the years ahead. This project is a testament to our capabilities, expertise, and commitment to the region where we have been operating for 15 years."