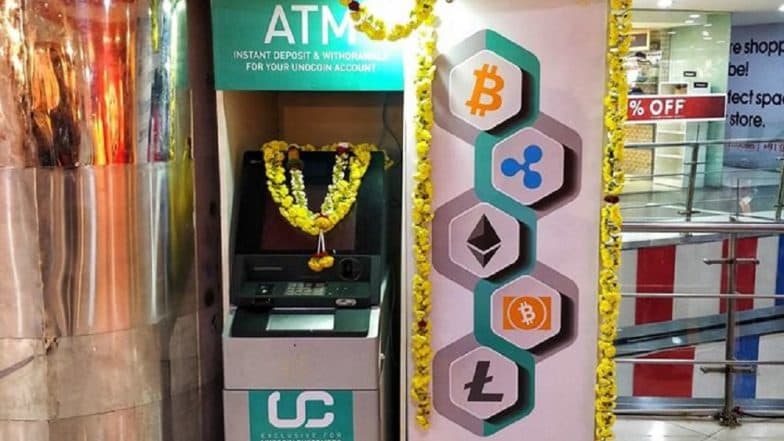 Bengaluru, October 24: An illegal cryptocurrency kiosk put up in the city by Unocoin Technologies was seized within a week of its installation. The police have made an arrest of the co-founder of the company, Harish BV. It was called as India's first ever Bitcoin ATM installed at Kempfort Mall in the city, despite Reserve Bank of India's crackdown on cryptocurrency in India. The Cyber Crime Police from Bengaluru have registered a case against the company.
The Cyber Crime department of the Central Crime Branch (CCB) told the media, "The ATM kiosk installed by Unocoin in Bengaluru's Kempfort Mall has not taken any permission from the state government and is dealing in cryptocurrency outside the remit of the law." The ATM allowed customers to deposit and withdraw a minimum amount of Rs 1,000 of virtual currency. Along with the machine, the police also seized two laptops, mobile phone, credit cards, debit cards, passport, seals of Unocoin company and Rs 1.8 lakh.
The co-founder Harish has been sent to police custody for a week. The police also said that more arrests in the case are likely after further investigation. The Bitcoin ATM was a platform for people wanting to buy and sell bitcoins. In a report to TOI, the CCB course said, "The accused claims he's running the kiosk for six months. We think he's misleading us." The police also appealed to the people to not be lured by investing money in cryptocurrencies. Cryptocurrencies to Remain Illegal in India, RBI Says Can't Recognise Bitcoins Under the Current Legal Regime. 
The company meanwhile stated that the machine wasn't working yet and was portrayed in a negative light. Unocoin was planning to install similar ATMs in Mumbai and Delhi. The RBI earlier this year had made a declaration to prohibit dealing in virtual currencies. The central bank declared that cryptocurrencies are not a legal tender and no financial institutions associated with the RBI would deal in virtual currency.