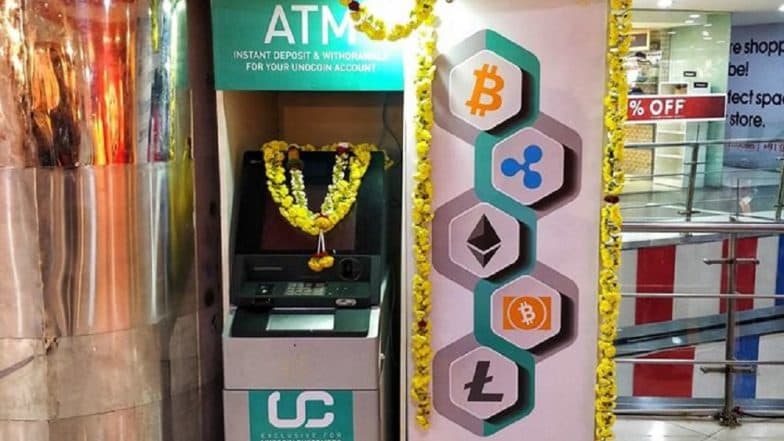 With several questions concerning Bitcoin's validity, the most popular cryptocurrency has got its first ATM in the city of Bangalore in India. Despite of several warnings from Finance Minister Arun Jaitley and the Reserve Bank of India regarding its validity, a blockchain solution provider - Unocoin has instituted the first of its kind - Bitcoin ATM. The company has mentioned in a statement that it will be installing two new ATMs in Mumbai and Delhi over the period of next couple of weeks. Cryptocurrencies to Remain Illegal in India, RBI Says Can't Recognise Bitcoins Under the Current Legal Regime.
As per the company, the users will be able to withdraw Indian rupee obtained by selling the Bitcoin cryptocurrency on the above mentioned platform. Additionally, the users can also make a request through Unocoin.com or Unocoin mobile application, which will specify the desired amount for withdrawing the money.
Post the request, a 12 digit reference number will be sent to the user wherein the user will be required to visit the Unocoin Kiosk and need to enter the received reference number. The user will also be required to enter the OTP received on the registered mobile number for withdrawing the Indian rupees. For depositing the money, the user id of the customer and OTP would be required and the amount will be deposited when confirmed of the respective amount details.
As a reminder, the craze for the cryptocurrencies and the demand for the investment went up surprisingly by late 2016 which last till early 2018. During this duration, several other new crypto currencies also emerged in the markets attracting people to make an investment. Gujarat Bitcoin Extortion Case: Ex- BJP MLA Nalin Kotadiya Arrested by Ahmedabad Crime Branch.
Finance Minister Arun Jaitley had previously mentioned that Bitcoin is not a legal tender in the country and further cautioned the investors regarding putting their hard earned money into such cryptocurrencies with any governing body. He also mentioned that the government will also take actions and measures for eradicating the use of virtual currencies. Moreover, RBI has also warned the users regarding the risks involved with the virtual currencies like Bitcoin.
Earlier this year in April, RBI ordered all the financial institutions to cut the ties with individuals as well as bodies entitled to deal with such virtual currencies within 3 months. Further, RBI also mentioned that the several services related to the virtual currencies like maintaining accounts, opening accounts of exchanges, transfer/receipt of money in accounts relating to purchase or sale should be stopped.