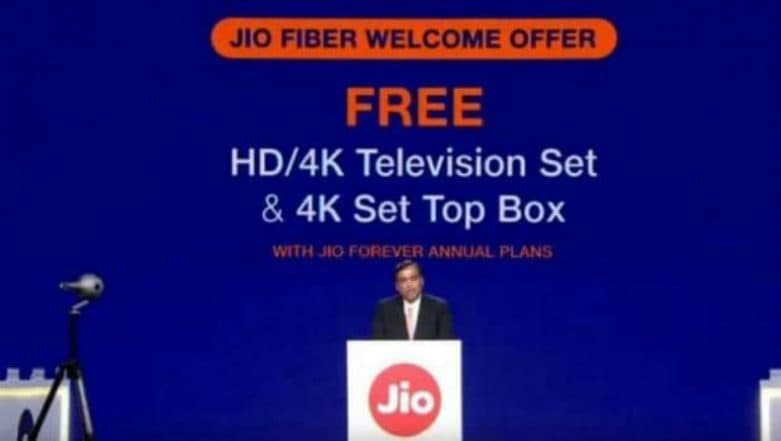 After making an impact in the telecom space, Mukesh Ambani-led Reliance Jio is looking to take on the over-the-top aka OTT players in the broadband sector. The JioFiber service from Asia's richest man is scheduled to commence from today onwards across the country. The JioFiber from Reliance comes with a HD television and a set-up box at no charge for the annual lifetime subscribers. As a reminder, the Fiber to the home (FTTH) service was announced at the annual AGM meeting last month. Jio Gigafiber: Here's All You Need To Know About It And How It Stacks Up Against Its Competitors.
It is important to note that the company offers subscriptions to JioFiber with prices starting as low as Rs 700 per month. The customers will get Free HD TV set along with free voice calls from landline (lifetime free), 100 MBPS to 1GBPS broadband speed at a price of Rs 700 only with every JioFiber subscription.
The company is eyeing to lure 3.5 crore subscribers and it claims that they have already received around 1.5 crore registrations from 1,600 cities across India.
The official plans for the Reliance JioFiber will be revealed later today. However, the company has already announced that the plans will start from Rs 700 onwards till Rs 10,000 each month, depending upon the plan selected by the subscribers. It is important to note that the new subscribers will get 2-months JioFiber service absolutely free as a part of 'under the preview offer' from Jio. Reliance Jio Fiber Customers to Get Free HD and 4K LED TV as Launch Offer, Announces Mukesh Ambani.
Here's how you can opt for JioFiber connection-
1. Firstly, the interested customers should head to Jio's official website as raising a request for a new connection. The consumers will be required to submit important personal details such as Name, Address and Mobile number.
2. Now, the interested customers will receive an OTP on their mobile number for completing the registrations.
3. After the registration is completed, a Jio Executive will visit at the address mentioned for verification of the details submitted during registration.