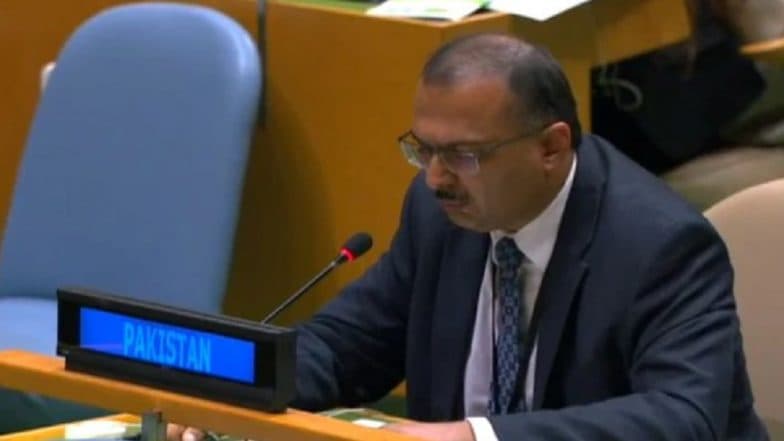 New York, Sep 30: A day after External Affairs Minister Sushma Swaraj lambasted Pakistan at United Nations General Assembly (UNGA) for extending continued support to terrorism on Indian soil, Islamabad named Rashtriya Swayamsevak Sangh (RSS) and Uttar Pradesh chief minsiter Yogi Adityanath in its response. Pakistan alleged in "illiberal India of today, there is no room for dissent".
"The breeding ground of terrorism in our region is the RSS centres of Fascism. The claims of religious superiority are perpetrated through straight patronage all across India," Pakistani envoy Saad Warraich said while exercising the right of reply. The Pakistani diplomat went on say that "unabashed Hindu extremist Yogi Adityanath, who openly advocates religious superiority of the Hindus, serves as the face of the largest Indian state Uttar Pradesh". Sushma Swaraj Tears Into Pakistan at UNGA, Blames Islamabad For Derailment of Talks: Read Full Text of EAM's Speech.
Without taking name of Bharatiya Janata Party national president Amit Shah, Warraich said that several Bengalis in Assam have suddenly made stateless and "have been called termites by a prominent Indian leader". His response came after Indian diplomat Eenam Gambhir denounced Pakistan's "preposterous" attempt to exploit and dishonour the memory of the innocent victims of the 2014 Peshawar school massacre by making false allegations against India.
Qureshi spoke at the General Assembly after Swaraj had delivered a scathing attack on Islamabad for promoting terrorism in the region and warning the world of a conflagration if it did not act against the sponsors and protectors of terrorists. He tried to portray Pakistan as a victim of terrorism and made the claim about the Peshawar incident. Pakistan Foreign Minister Shah Mehmood Qureshi Makes Personal Attack On Sushma Swaraj After Snubbed at Saarc Meet.
With a fact-check, Gambhir challenged Qureshi's claim that Pakistan was making headway against terrorists. "Can Pakistan deny the fact that it is the host and patron of 132 of the UN designated terrorists and 22 terrorist entities sanctioned under the 1267 and 1988 UN Security Council sanctions regimes as of today?" she asked. Gambhir said that Pakistan's attempts to be a champion of human rights "is vintage verbal duplicity".