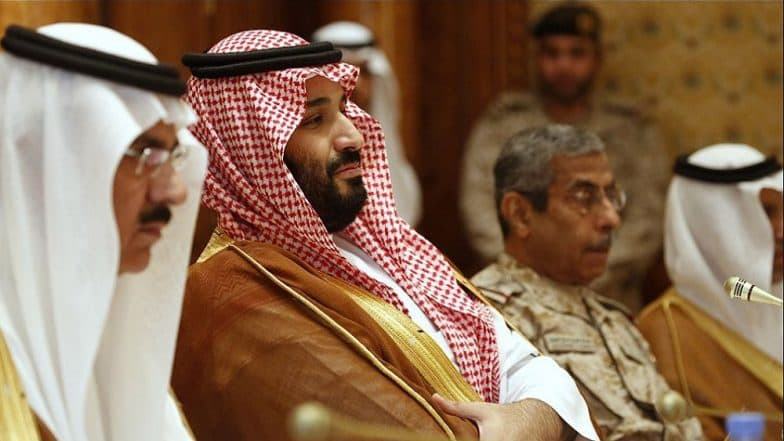 Mumbai, April 25: A day after Saudi Arabia reported that it had executed 37 people in a single day on "terror-related charges", some of the identities of those punished with the death penalty have been revealed.
"The death penalty was implemented on a number of criminals for adopting extremist terrorist ideologies and forming terrorist cells to corrupt and disrupt security as well as spreading chaos and provoking sectarian strife," Saudi Press Agency said in a tweet.
But, according to human rights group Amnesty International, the majority of those executed were Shia men. The group also dismissed the legal proceedings that led to the convictions as "sham trials that violated international fair trial standards which relied on confessions extracted through torture."
The execution of Mujtaba al-Sweikat has drawn widespread condemnation because he was only 17 when he was arrested. Mujtaba was arrested at King Fahd International Airport, en route to the U.S. where he was to begin his studies at Western Michigan University. He was arrested and charged with "armed disobedience against the king" as well as making molotov cocktails, destroying public property and participation in a terrorist cell.
Mujtaba's death has seen U.S. politicians condemn Saudi Arabia's actions. "The violent killing of Mutjaba al-Sweikat is disturbing," Representative Debbie Dingell, a Democrat from Michigan, said in a statement. "Mutjaba had a bright future ahead of him and Michigan was prepared to welcome him as a student. Instead, he faced inhumane torture and pain ultimately leading to his execution." She added, "Every human, regardless of where they may be in the world, should have the right to speak openly without fear of persecution or death."
Mujtaba's arrest is also being called a violation of international law, according to human rights groups as he was not yet 18-years old.
Saudi Arabia's ruler MBS tortures & executes children. Already this year, he has killed 100 people. At least 3 today were arrested as teenagers & tortured into false confessions. He killed them for attending protests! Think about that. https://t.co/lWepnpgpnk

— Rashida Tlaib (@RashidaTlaib) April 24, 2019
Saudi Arabia has executed 104 people in the first four months of 2019, according to Amnesty International, and is scheduled to execute 300 people, as compared to last year's total of 149.
Another name that has sent shock-waves is the execution of Mohammed al-Attiyah, a Shia cleric and a dean of the English department at Jeddah University. Attiyah had publicly spoken out numerous times for the need of unity between the different sects in the Sunni-majority kingdom. He was charged with "high treason" and meeting with Iranian "intelligence agents", as well as trying to stir up anti-government sentiment in the country's Eastern Province.
Speaking in court prior to his execution, Attiyah said he denied "all the evidence against me".
Saudi officials also executed a disabled pro-democracy activist Munir al-Adam. He took part in demonstrations in 2012 calling for greater democracy and an end to discrimination against the Shia community. Already partially blind and deaf, Munir who was reportedly tortured in Saudi prisons , lost his remaining hearing as a result of beatings, according to the ESOHR. Human rights groups said Munir, who was only 18 at the time of his arrest was charged on the basis of a confession elicited through torture.
Saudi Arabia's actions have drawn condemnation from the UN as well. The UN human rights chief on Wednesday called Saudi Arabia's mass executions of 37 men "shocking" and "abhorrent", joining a growing chorus of condemnation by rights groups and activists.
"I strongly condemn these shocking mass executions across six cities in Saudi Arabia yesterday," UN High Commissioner for Human Rights Michelle Bachelet said in a statement. "It is particularly abhorrent that at least three of those killed were minors at the time of their sentencing," she added.