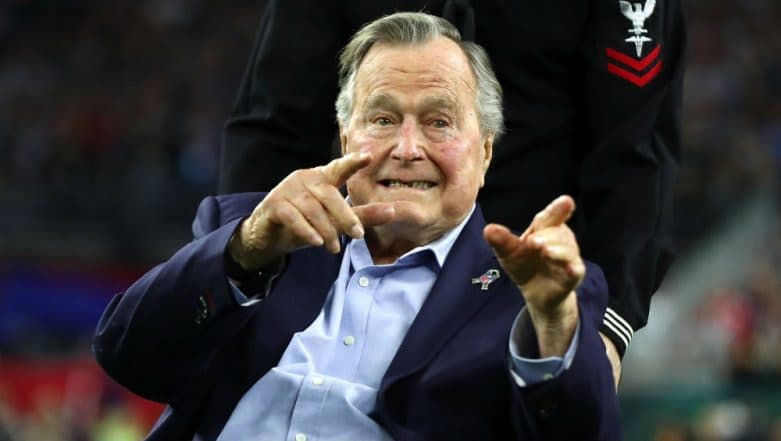 Washington DC, December 5: The funeral ceremony of former US President George H.W. Bush is underway in the US Capitol Rotunda for the second consecutive day. This gives the public another chance to view the casket of the 41st President of the United States of America. A state funeral will be held of the former commander-in-chief at the National Cathedral before which the public could pay their last respect.
The United States of America will observe the National Day of Mourning on December 5, 2018, to honour the 41st President of the United States, George Herbert Walker Bush who died on November 30. US National Day of Mourning: Know What Will Be Open & Closed on This Federal Holiday for George HW Bush's Funeral on Dec 5.
Four former US Presidents and current President Donald Trump will be attending his funeral organised at the National Cathedral, Washington D.C.
How to watch the live streaming online
Major news channels like CBS and NBC, as well as video streaming YouTube pages of channels like ABC, will provide live coverage of the funeral services. Those who prefer direct access on web can watch the proceedings at www.georgehwbush.com.
The mobile apps of these major networks will also livestream the ceremonies. CNN is providing ongoing commentary in writing.
Schedule of the funeral services for George H.W. Bush
Arrival of the casket and funeral at Washington National Cathedral, Washington, D.C.- Wednesday, Dec. 5, at 11am ET (Eastern Time).
Funeral service at St. Martin's Episcopal Church, Houston, Texas- Thursday, Dec. 6, at 11am ET.
Arrival and internment at George Bush Presidential Library & Museum, College Station, Texas- Thursday, Dec. 6, at 4:15pm ET.
US President Donald Trump tweeted saying "President George H.W. Bush led a long, successful and beautiful life. Whenever I was with him I saw his absolute joy for life and true pride in his family. His accomplishments were great from beginning to end. He was a truly wonderful man and will be missed by all!"
The National Day of Mourning will act as an impromptu federal holiday, meaning many federal offices and services will be closed. The US Postal Service reported halting most of the mail services and post offices will be closed.