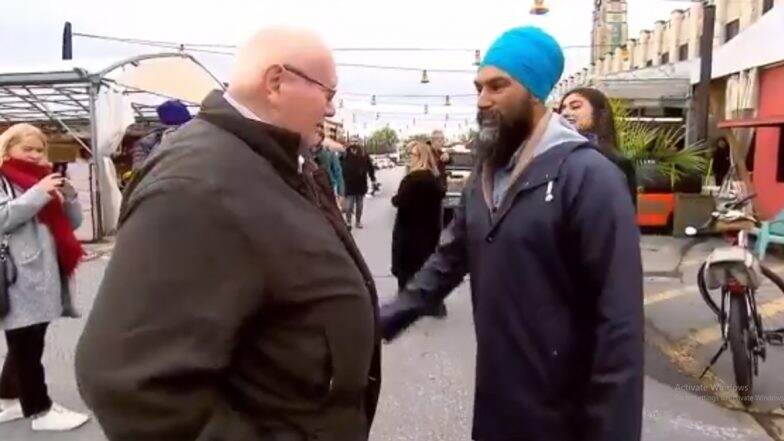 Ottawa, October 3: Canada's Indian-origin Sikh MP, Jagmeet Singh was confronted by a voter who asked him to 'cut off' his turban to look more Canadian. The incident took place in Montreal on Wednesday. In response to the man's suggestion, Jagmeet Singh said: "Canadians look like all sorts of people." The video of the brief conversation between Singh and the Canadian citizen is being widely shared on social media.
Jagmeet Singh was meeting people in Montreal Atwater Market when he comes across an elderly man. In the video, Singh is seen shaking hand with the man before the latter leans forward to make the suggestion. The New Democratic Party (NDP) leader, a practising Sikh, tells the man that "Canadians look like all sorts of people". The man reiterates his point and says, "In Rome, you do like the Romans do". Bhangra Face-Off Video; Canadian Ministerial Candidates Jagmeet Singh & Navdeep Bains Shake their Legs to the Bhangra Beats.
Singh responds: "This is Canada you can do like… whatever you like." To which the man replies, "Alright, take care," adding: "I hope you win." The Sikh MP later responded to the video. "Many Canadians are told that we must change who we are to succeed. My message to you: do not change who you are. Everyone deserves his place," he tweeted. Singh added that many others he too had faced racism and discrimination in Canada.
Indian-Origin Sikh MP Jagmeet Singh Asked to 'Cut Off' His Turban:
Beaucoup de Canadien·nes se font dire qu'on doit changer qui nous sommes pour réussir. Mon message pour vous : ne changez pas qui vous êtes. Tout le monde mérite sa place. https://t.co/T8wDnfsNMi

— Jagmeet Singh (@theJagmeetSingh) October 2, 2019
Singh created political history in Canada when he made his debut in the House of Commons as the first non-white leader of a major opposition party. He is the prime ministerial candidate of the New Democratic Party which has ruled several provinces but has not been elected to power.