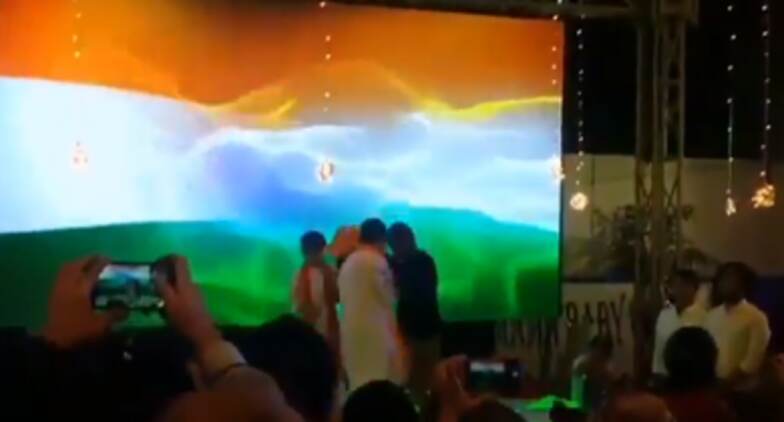 Karachi, February 16: Pakistan government has suspended the registration of a local school in Karachi after its students danced to 'Phir Bhi Dil Hai Hindustani' of Shah Rukh Khan's movie at a cultural event with Indian tricolour in the background. Teacher Tapes Mouth Of 2 kindergarten Students, Suspended; Watch Shameful Video.
Officials of Directorate of Inspection and Registration of Private Institutions Sindh (DIRPIS) terminated the school's license citing that the event hurt "Pakistan's national dignity." The action was initiated after DIRPIS came across a video showing students dancing on the Indian song and formed a 3-member committee to look into the episode.
The video of the dance performance by Mama Baby Care School students is going viral on the internet. A 35-second-clip of the incident was also posted by a Twitter user. US boy Suspended From School Over His Stick Figures Holding Gun & Knives Sketch.
Watch Video:
@mama_cambridge #Karachi private school had function presentations like this. After #FIR

All registered branches canceled the license. Schools closed.

WTF is wrong in Karachi. How parents sit and enjoy this.

MQM made krachi pro-india just for funds.#LQvKK #PSL4 #Pakistan pic.twitter.com/d6HBn1m9SQ

— مُحَمَّد سُھِیٌل (@MuhammdSuhail) February 16, 2019
According to DIRPIS registrar Rafia Javed, "promoting Indian culture in educational institutions was against Pakistan's national dignity which could not be tolerated in any circumstances". The action was taken when the DIRPIS came to know that the school had intentionally arranged such a function.
The School's owner was asked to explain the matter within three days after receiving the notice. However, the owner of the school neither responded nor explained his stance. According to reports, the school was holding an event on cultures of Egypt, Saudi Arabia, the United States, India and other countries.