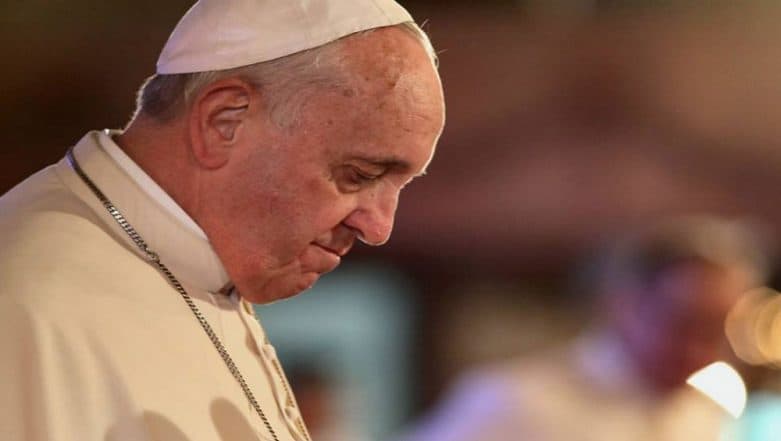 Toronto, February 25: Pope Francis, head of the Roman Catholic Church speaking at the Protection of Minors in the Church summit, promised strong action to tackle the epidemic of child abuse charges that has been leveled against Catholic priests across the world.
"I am reminded of the cruel religious practice, once widespread in certain cultures, of sacrificing human beings - frequently children - in pagan rites," Pope Francis said at the end of a four-day summit held in the Vatican. "The inhumanity of the worldwide phenomenon becomes even more serious and more scandalous in the Church, because it is in contrast with its moral authority and its ethical credibility.
He also strongly condemned the actions of the guilty priests calling them "tools of Satan", and pledged to face every case with "utmost seriousness". "Consecrated persons," he continued, "chosen by God to guide souls to salvation, let themselves be dominated by their human frailty or sickness and thus become tools of Satan."
The summit was called after the Church came under severe criticism after a slew of child sexual abuse cases and their consequent cover-ups were unearthed in recent years – from Germany to Australia to the U.S. The summit in Vatican was attended by the heads of all national bishops' conferences from more than 130 countries. The Pope said that Bishops had been tasked with reviewing and strengthening their guidelines to prevent abuse and punish perpetrators, he added.
The Pope promised a change in the attitude of the Church to place victims as the priority and promised an end to cover-ups, saying all abusers would be brought to justice. However, he added that child sexual abuse was a universal problem - "a widespread phenomenon in all cultures and societies".
At the end of the conference, Reverend Federico Lombardi, the summit's moderator, said the church was "committed to translating into concrete action" the meetings' themes of responsibility, accountability and transparency. "We will return to our dioceses and communities in various parts of the world with a deeper understanding of the terrible crimes of sexual abuse against minors committed by members of the clergy," he said.
Lombardi also outlined three "first steps" the Vatican intends to take tackle the abuse: a new papal decree "on the protection of minors and vulnerable persons" for members of the church who live and work in Vatican City; a handbook for bishops on how to handle cases of clergy sexual abuse; and the creation of task forces to help bishops' conferences and dioceses around the world implement guidelines.
India too has been rocked by news of sexual abuse by a member of the clergy. Jalandhar Bishop Franco Mulakkal has been accused of rape by a nun who was serving under him.