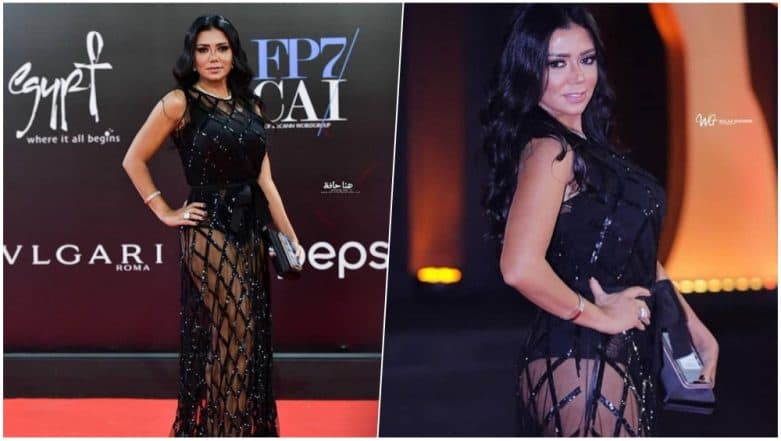 The Egyptian society is largely conservative and there is a strict code of conduct to be followed by the women here. With dress, appearance or behaviour they have to follow certain rules. An Egyptian actress Rania Youssef has been charged for wearing a revealing dress to the Cairo Film Festival. Youssef wore a black lacy dress with a tight bodice underneath which showed off her legs. It hasn't gone well with two lawyers and she has been charged of "inciting debauchery." She will go to trial in January and it could land her up to 5 years of jail if she gets convicted. Elizabeth Hurley Shamed for Wearing Cleavage Revealing Dress on Son's 16th Birthday: View Pic.
Rania Youssef was attending the closing session of the  Cairo International Film Festival and chose an apparently revealing dress for the red carpet. The two lawyers named Amro Abdelsalam and Samir Sabri who took objection are known to take celebrities to court. According to Sabri's statement to the press, "Youssef's appearance did not meet societal values, traditions and morals and therefore undermined the reputation of the festival and the reputation of Egyptian women in particular." The dress has sparked much criticism on social media and has angered people. Newsha Syeh, Social Media Influencer Gets Slammed as Sex-Worker, Denied Entry in Louvre Museum in Paris for Wearing Revealing Outfit. 
Check Rania Youssef's Outfit at Cairo Film Festival Which Sparked Outrage
Rania youssef on fire 🔥😍 pic.twitter.com/HVI2fzwGTu

— ehabelrefaai. (@EhabElrefaai) November 30, 2018
The  Egyptian Actors' Syndicate also agreed that the actress's outfit wasn't apt for the societal standards. "The appearance of some of the festival's guests did not agree with the traditions and values of the society, and this has undermined the festival and the union which is responsible for its members behaviour," their statement read. Youssef has even given out an apology. She said she did not expect such an angry reaction from the people. She was quoted, "It was the first time that I wore it and I did not realise it would spark so much anger. I reaffirm my commitment to the values upon which we were raised in Egyptian society."
Some people on social media, including fans of the actress, were appreciating her outfit and thought she looked like, "she's on fire." The entire incident just shows the level of conservativeness that is still followed in the Egyptian countries.