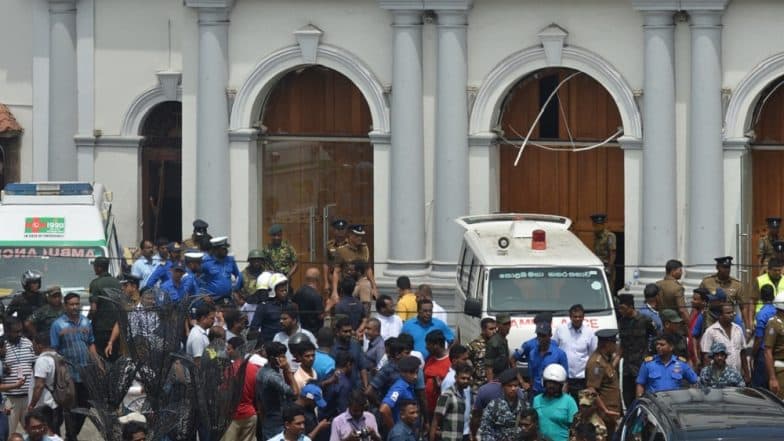 Colombo, April 26: After the Sunday Easter bombings in Sri Lanka, the United States on Thursday issued two advisories for its citizens visiting the Asian country asking them to remain alert as there is a possibility of more such attacks this weekend between April 26 and April 28. The US Embassy in Sri Lanka put out two advisories with warnings about the time and possible locations of the attacks. Sri Lanka Blasts Aftermath: Visa On Arrival For Citizens of 39 Countries Scrapped.
The warning reads, "Sri Lankan authorities are reporting that additional attacks may occur targeting places of worship.  Avoid these areas over the weekend, starting tomorrow, April 26th through Sunday, April 28th.  Continue to remain vigilant and avoid large crowds." In the second warning, the US Embassy in Colombo said that terrorists may attack tourist locations, transportation hubs, markets, shopping malls, government facilities and, hotels.
The second warning reads, "Terrorist groups continue plotting possible attacks in Sri Lanka. Terrorists may attack with little or no warning, targeting tourist locations, transportation hubs, markets, shopping malls, government facilities, hotels, clubs, restaurants, places of worship, parks, major sporting and cultural events, educational institutions, airports, hospitals, and other public areas." Sri Lanka Blasts: Names Of Churches And Hotels That Were Attacked On Easter Sunday.
US Embassy Advisory:
Security Alert: Terrorist groups continue plotting possible

attacks in #SriLanka. Please read: https://t.co/8gFEK3a1zy pic.twitter.com/saavO7GOLM

— U.S. Embassy Colombo (@USEmbSL) April 25, 2019
The UK and Australia have also advised their citizens not to travel to Sri Lanka unless their journey is essential as terrorists were "likely" to carry out further attacks in the country. In the immediate aftermath of the bombings, The UK Foreign Office (FCO) updated its guidance, urging British citizens in the country to avoid large gatherings. But on Thursday it went further, warning about the potential for more attacks. "The Foreign and Commonwealth Office advice against all but essential travel to Sri Lanka, due to the current evolving security situation following attacks on April 21 2019," it said.
Following similar warnings from the UK and the US, Australia on Thursday warned more terror attacks were "likely" in Sri Lanka, cautioning citizens against visiting the island nation. "Terrorists are likely to carry out further attacks in Sri Lanka," the foreign ministry warned in its latest travel advice. "Attacks could be indiscriminate, including in places visited by foreigners. Security has been stepped up across the island and a State of Emergency and night-time curfew remain in place," it said.
Meanwhile, earlier reports surfaced that wanted Sri Lankan radical cleric Hashim had died in one of the blasts that rocked the country on Sunday on the occasion of Easter, reported AFP quoting Sri Lanka President Maithripala Sirisena. The Islamic State has claimed the responsibility of the blasts. As per official figures, 253 people were killed in the attacks, while 500 others were injured. A total of eight blasts rocked Sri Lanka on April 21.
Meanwhile, an explosion was also reported from Pugoda town near Magistrate Court in Sri Lanka on Thursday. The blast occurred 40 km from east of Sri Lankan capital Colombo. According to tweets, a minor explosion reported in a garbage dump on a vacant plot of bare-land behind the Pugoda courts. Police informed that no injuries have been reported.
(With inputs from PTI)