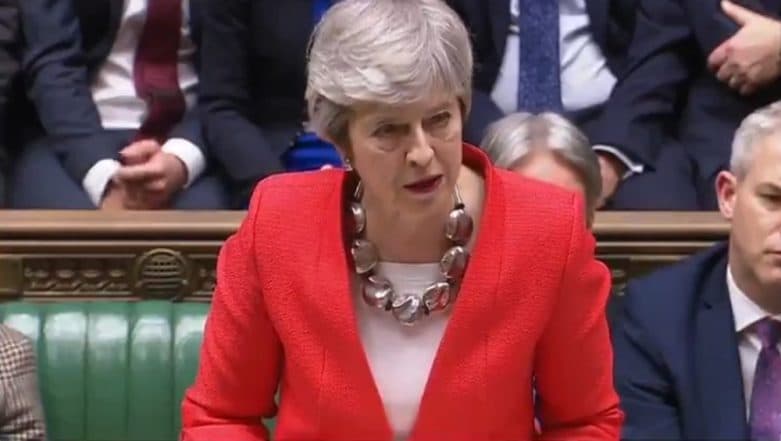 Toronto, March 13: With just 17 days to go for March 29, the self-proclaimed deadline for the UK to exit the European Union trade bloc, British lawmakers have failed to come to an agreement over how to do it.
The UK Parliament rejected Prime Minister Theresa May's withdrawal plan in a vote of 391 against to 242 for. The British MPs ignored the prime minister's reassurances of additional concessions from the EU and her pleas to "get the deal done" to defeat her bill by 149 votes. May urged the MPs to "come together" and "prove beyond all doubt that democracy comes before party, faction or personal ambition". She reminded them that the Brexit was a decision of the British populace, "We cannot serve our country by overturning a democratic decision of the British people." Read: Bank of England Warns "No-Deal Brexit" Would Push UK into 2008-Like Recession
But despite this last minute urging, the bill was defeated as many from Theresa May's Conservative party remain deeply split over how to exit the EU. These were joined by Labour MPs, the DUP, the pro-Brexit European Research Group (ERG), to sink the deal. Read: Special Place in Hell for Those Who Backed Brexit: European Council President Donald Tusk
Former foreign secretary Boris Johnson who has been a staunch opponent of May's Brexit deal said the vote should mark "the end of the road", for May's deal. Meanwhile, opposition leader Jeremy Corbyn said the Labour Party would now press for a softer Brexit. "I believe there is a majority in this house for the sort of sensible, credible and negotiable deal that Labour has set out. I look forward to parliament taking back control so that we can succeed where this government has so blatantly failed," he said.
The British MPs will now vote on Wednesday on whether to leave the E.U. on schedule, on March 29, without a deal. If the MPs then vote against the March 29 deadline, they would then vote on Thursday on whether to request a delay from E.U. leaders.