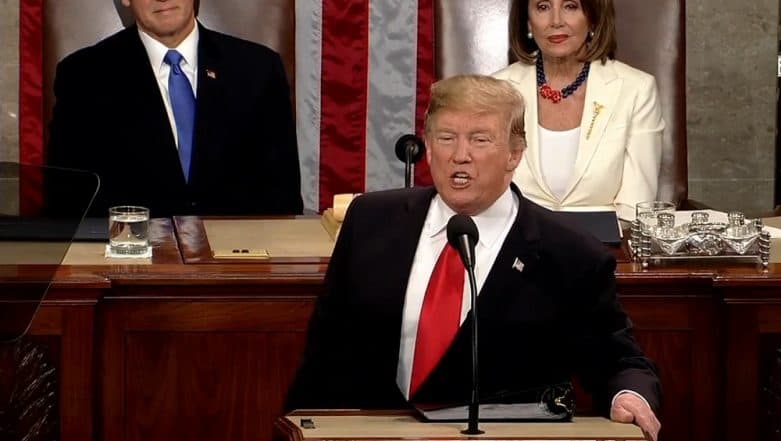 Toronto, February 6: US President Donald Trump addressed the nation at the two-year mark of his presidency. It was in January 2017 that he had begun implementing his policy goals after assuming office.
So on February 6, with the theme of his address to the nation "Choosing Greatness", Trump defended his presidency for some part of the speech as well as pushed through his continued demand for funding for a 'border wall' by reiterating the threat illegal immigration poses to the U.S.
Border wall:
The US President said, "No issue better illustrates the divide between America's working class and America's political class than illegal immigration," Trump said. "Wealthy politicians and donors push for open borders while living their lives behind walls and gates and guards." Trump worked to sow fear and paint asylum seekers as criminals despite most of them being poverty-stricken, gang war survivors from Central America. However, he has already blinked to the Democrats when it comes to the government shutdown as he re-opened it despite threatening to hold out for his border wall funding.
He also repeated his claim that "tens and thousands of Americans are killed by lethal drugs that cross our border and flood into our cities, including meth, heroin, cocaine and fentanyl".
But as has been the norm, the US President's statements rang hollow when fact-checked as recent statistics show that illegal immigration has dropped to a 20-year low. Drug smuggling is also mostly carried out through official ports of entry.
Trump-Kim Summit:
The US President confirmed multiple reports and said he will hold a two-day summit with North Korea's leader Kim Jong-Un on February 27-28 in Vietnam. "As part of a bold new diplomacy, we continue our historic push for peace on the Korean Peninsula," Trump said. "Our hostages have come home, nuclear testing has stopped and there has not been a missile launch in 15 months." He added, "If I had not been elected president of the United States, we would right now, in my opinion, be in a major war with North Korea." "Much work remains to be done, but my relationship with Kim Jong-un is a good one."
However, just a day ago a UN sanctions monitor released a report saying that North Korea is continuing to stockpile nuclear weapons and is working to ensure that they cannot be destroyed in air raids.
US Economy:
Trump also used the speech to highlight his biggest achievement, the improvement in the U.S. economy. "An economic miracle is taking place in the United States and the only thing that can stop it are foolish wars, politics or ridiculous partisan investigations," he said. He also warned the Democrats against pursuing legal cases against him saying this hurts the business community as it sows fears in the minds of the people about the U.S.'s economy.
Trump defended his trade-war with China saying it was needed to help the American economy which had suffered for years due to faulty policies: "To build on our incredible economic success, one priority is paramount: reversing decades of calamitous trade policies," he said.