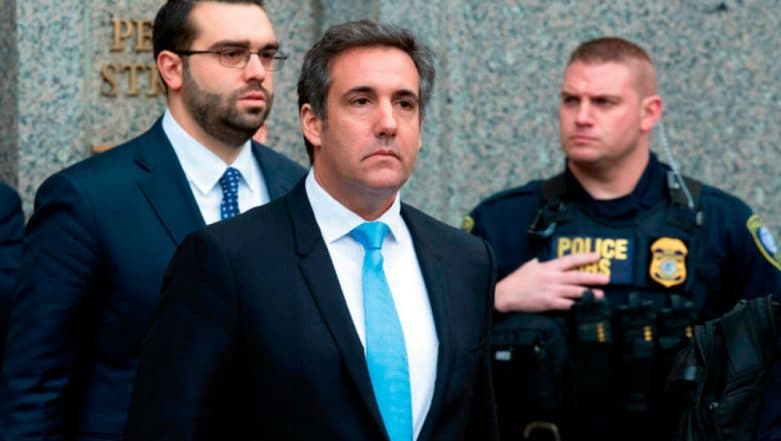 US President Donald Trump's former lawyer and long-time aide Michael Cohen was sentenced to three years in federal prison for his various crimes including an election campaign finance law violation during the 2016 US elections.
Michael Cohen has been ordered by the judge to report for his prison sentence on March 6, 2019. While handing down the sentence, the judge said that Cohen had lost his moral compass" and committed a "veritable smorgasbord" of crimes.
"The need for general deterrents is amplified in this case," the judge said, adding, "as a lawyer, Mr Cohen should have known better".
The judge also fined Michael Cohen $1 million in restitution.
Why was Michael Cohen arrested?
Michael Cohen was arrested after Special Counsel Robert Mueller began his investigation into possible Russian collusion in the 2016 US Presidential elections. U.S. law allows prosecutors to send evidence to other prosecutors if they find crime not related to their case but that could be investigated and prosecuted by another county. This is what happened with Cohen. Mueller tipped off Southern District of New York of possible crimes that Cohen had committed and based on which he was arrested.
The Southern District of New York then conducted their own investigation and charged Michael Cohen with 8 crimes:
Charges 1-5: Cohen was slapped with five counts of evasion of assessment of income tax liability for failing to report more than $4 million in income from 2012 through 2016.
Charge 6: Cohen was charged with giving false statements to a bank for understating debt from his taxi medallion business in the process of applying for a home equity line of credit with a bank.
Charge 7: Cohen was also charged in relation to violating US federal election laws by setting up in illegal corporation to make payments to Karen McDougal for her "limited life story", about the allegation that she had an affair with Donald Trump.
Charge 8: The second US federal election law violation of making an excessive campaign contribution for his payment to adult film actress Stephanie Clifford aka Stormy Daniels for her story and to keep her silent about her alleged one-day affair with Donald Trump.
Charge 9: Though Cohen co-operated with Special Counsel Mueller's investigation, he initially did lie to Congress on the extent of Donald Trump's business interest and interaction with Russia.
With this long list of charges against Michael Cohen to which he pleaded guilty to and turned co-operator, Cohen's lawyer argued that his client deserved leniency for having the courage to stand up to the President of the United States. He came forward to offer evidence against the most powerful person in our country," Guy Petrillo told the judge, according to NBC New York.
But the prosecuting lawyers said that Michael Cohen's almost decade long violation of laws deserved a strong jail sentence.
How did these charges affect Michael Cohen's sentencing?
US Prosecutors have the right to recommend an approximate jail sentence time for which they have charged a person with. The Southern district of New York suggested almost five years in jail for Michael Cohen.
However here is how the judge sentenced Cohen.
For Charges 1-8, Michael Cohen was sentenced to three years in prison. He was also sentenced to three years of supervision after he completes his jail term. Along with these he was ordered to pay a fine of $1 million. For charge 9, Cohen was sentenced to two months of time with the New York prosecutor's office.
Cohen spoke during his sentencing hearing. He lashed out at his former boss saying, "(his) weakness was a blind loyalty to Donald Trump" and that he "felt it was my duty to cover up his dirty deeds".