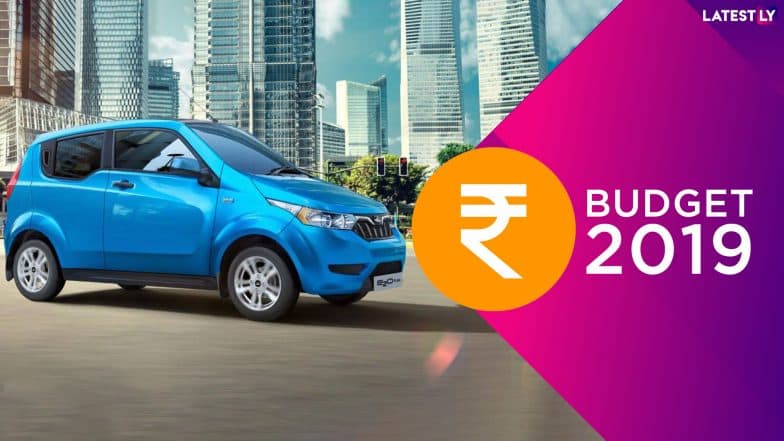 Finance Minister Nirmala Sitharaman on Friday presented her maiden budget in the Parliament wherein she gave insight about government's motivated vehicle electrification programme. With focus on making electric vehicles accessible to common man, the government announced bigger outlay of Rs 10,000 crore for faster adoption of EVs in the country. Sitharaman also announced the reduction of GST rates on EVs from 12 percent to 5 percent alongside tax rebate of Rs 1.5 lakh on interest paid for loan while purchasing electric vehicles. Taking these budget 2019 takeaways into consideration, we bring you a list of electric cars available for purchase in India. Budget 2019 for Electric Vehicles Buyers: Tax Rebate of Rs 1.5 Lakh PA Interest on Loan For EVs.
Tata Tigor EV: Foreseeing the need of EVs in the future, Tata Motors is one of the car makers that offers an electric car - Tata Tigor EV in its portfolio for the Indian buyers. Launched at a starting price of Rs 9.99 lakh (ex-showroom), the electric car gets a 16.2 kWh battery offering a range of 142 km in a single charge. The company claims that the battery pack on Tigor EV can be charged up to 80 percent through standard AC wall socket in 6 hours. Moreover, the car maker is also offering 3 year / 1.25 lakh km warranty along with the battery pack. It is important to note that the electric vehicle is presently sold only to fleet operators.
Mahindra e2o Plus: Mahindra & Mahindra is another car maker that had made efforts to make electric cars accessible in the country. Packed with 11KWh lithium-ion battery, Mahindra e2o Plus is available with a starting price of Rs 5.5 lakh. The company claims that Mahindra e2o Plus offers a range of 110 km on a single charge whereas the top-end model is claimed to run 140 km because of bigger 15kWh battery. 'One Nation One Card' Gets Push By FM Nirmala Sitharaman At Budget 2019; To Bring Unified Mobility Across India.
Mahindra eVerito: The eVerito from Mahindra is another electric vehicle which is available in the price bracket of Rs 9.5 lakh to Rs 11 lakh. Mahindra eVerito is essentially all-electric model of 4-door Verito sedan. The electric car is powered by a 13.91 KWh lithium-ion battery that offers a range of 110 km whereas the top-end variant runs 140 km because of bigger 18.55 KWh lithium-ion battery. The car maker claims that the car can be charged in just 8 hours and 30 minutes using company provided charged whereas the bigger battery pack (18.55 kWh) takes over 11 hours to charge.
It is important to note that the car makers also planning to launch new electric vehicles in the country. The vehicles like Hyundai Kona, MG eZS, Mahindra eKUV100, Maruti Wagon R EV and Nissan Leaf are likely to be launched by next year.