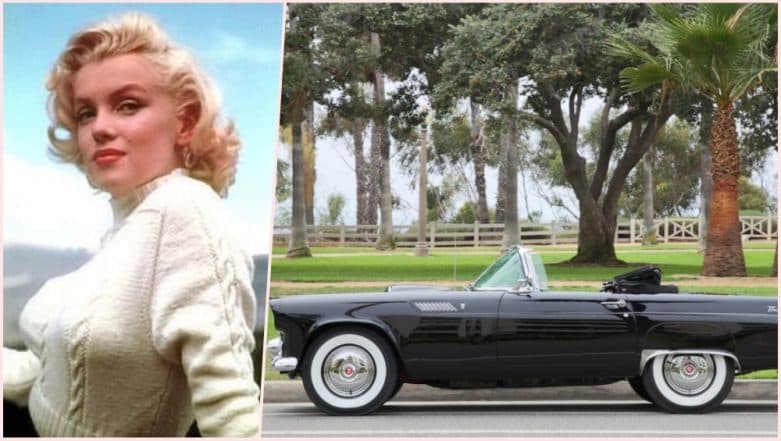 To speak of Marilyn Monroe, is to talk about an actress, an evergreen icon and even an industry which was captivated by her sensuality. Her style and grace continue to inspire generations. Of all of them, one of the most known is related to her passion for cars. Behind that innocent and delicate character, was a woman of arms to take. The only thing more cherry than Marilyn was her cars. And now one of her favourites could be yours! Yes, reportedly, the classic car—a raven black 1956 Ford Thunderbird driven by Monroe to her third wedding is to be auctioned and is expected to fetch between 300,000 dollars (over Rs. 2 crores) to 500,000 dollars (over Rs. 3.6 crores). Marilyn Monroe Lost Nude Scene From 'The Misfits' Has Been Recovered by Author Charles Casillo. 
The Thunderbird debuted in late 1954 as a 1955 model and was labelled as a "personal luxury car". Its engine was reportedly rebuilt and has clocked 30,399 miles since then. This beautiful black Ford Thunderbird does not only describe the excellence of the automotive history but comes with an aura of glamour, romance and tragedy of the Hollywood legend. According to auctioneer Julien's Auctions, Los Angeles, California, Monroe drove in it with her husband and playwright Arthur Miller to their wedding ceremony in 1956. The black soft-top with whitewall tyres will be put up for sale on November 17. It will be the first time, the two-seater, which has a black and white interior, a canvas convertible top and a detachable hardtop will be featured at an auction. Julien's Auctions has documents from the current owner providing the vehicle's authenticity. It still looks and drives the way it used to, the present owner of the car said in a statement.
Monroe owned the convertible for six years after which she gifted it to John Strasberg, the son of director Lee Strasberg, for his 18th birthday shortly before her death in 1962. The owner was quoted the statement as saying, "In recognition of the car's important provenance, special heed was given to the retention of original parts, with most driver and passenger touch surfaces left undisturbed." The current owner has all the documents that establish the car's authenticity; including records from the state of Connecticut and a letter to Monroe from an insurance company.