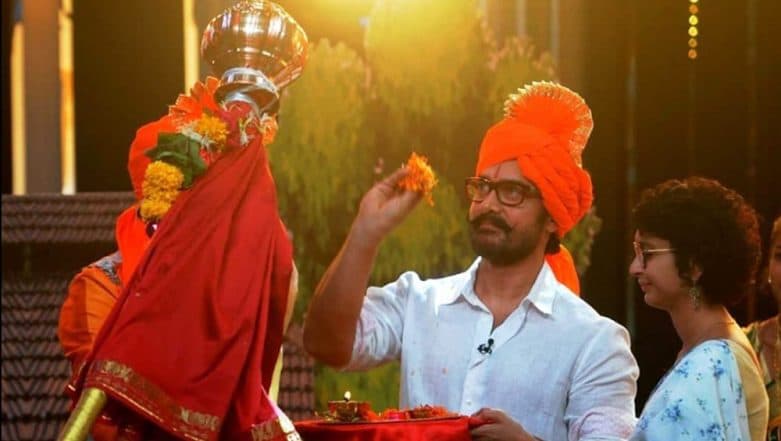 For the ones who don't know what is Gudi Padwa and why do people in Maharashtra celebrate it, here's a brief significance about it. It's obviously an Indian festival that marks the beginning of the New Year and the harvest season for the people of Maharashtra. Hence the significance in this particular region of our country. However, the celebration is not restricted to any one particular community. And if Aamir Khan can go ahead and celebrate it, you can too. The Dangal star took to his Instagram account to share a picture with his wifey dearest while celebrating this auspicious occasion.  Gudi Padwa 2019: Bhumi Pednekar, Sunny Deol, Kajal Aggarwal and Others Wish Fans on the Auspicious Occasion!
रेशमाची गुढी सजली, नवीन वर्षाच्या सणाला सुरवात झाली.
सर्वांना नववर्षाच्या आणि गुढीपाडव्याच्या हार्दिक शुभेच्छा. पहा 'तुफान आलंया' आज सायंकाळी ५:३० वा. आणि रात्री ९:३० वा. फक्त 'झी मराठी'वर, he captioned his beautiful picture while sending us loads of love and wishes for Gudi Padwa. Earlier the actor had posed with Kiran dressed in traditional Marathi attire and captioned his picture as The cutest in the world... mazi baiko. The actor is clearly fond of rich Maharashtrian traditions and leaves no opportunity to flaunt his love for same.  Gudi Padwa 2019: From Deepika Padukone's Conventional Drape to Kangana Ranaut's Nauvari Saree, Here are Some Styling Tips to Dress for This Big Occasion (View Pics).
Check out Aamir Khan's picture below
It's ironic how the actor was earlier tagged as intolerant when he expressed his fear over the present scenario of our country. Of course, that's a thing of the past and there's no point in bringing back the bitter memories. We are happy to see his new click and glad for someone who truly believes Unity in Diversity.