It was years ago when we saw Amrita Rao last on the big screen. She did make a mark in Bollywood with a couple of movies like Ishq Vishq and Main Hoon Na, but unfortunately, disappeared after some time. The actress is now all set to return to the big screen with Thackeray, which stars Nawazuddin Siddiqui in the main role. So what's Amrita going to be seen doing in the film? She will play the role of Meenatai Thackeray, his wife. Producer Sanjay Raut, while talking about Amrita has earlier said, "Meenatai was never in politics but she was the lady who held the Thackeray family together as also Shiv Sena, the party Balasaheb formed. She was his backbone and the embodiment of matrutwa (motherhood). When you see her on screen, you will know that she is best suited for the film." Thackeray Trailer: Amrita Rao Stars as Meenatai and We Can't Wait to Watch the Actress on the Big Screen Once Again.
Today, she was spotted with a bunch of school kids at Shivaji Park in Dadar, for a promotional activity for the film. She stood before Meenatai Thackeray's statue and looked like the exact replica of her. The uncanny resemblance is hardly unnoticeable and after seeing Amrita in this avatar, all we can say is, we are looking forward to see her play the part. Thackeray Trailer: Nawazuddin Siddiqui Starrer Looks Impressive, Say Fans – Read Tweets.
Check out her photos here-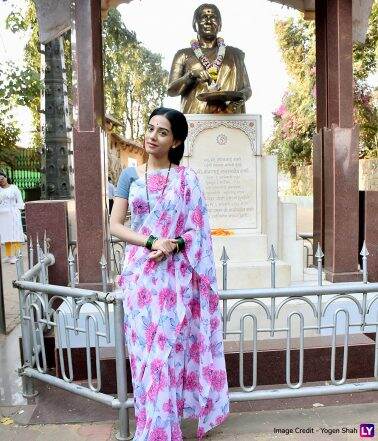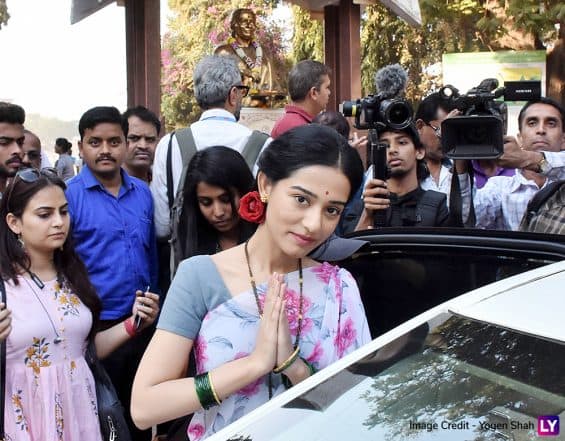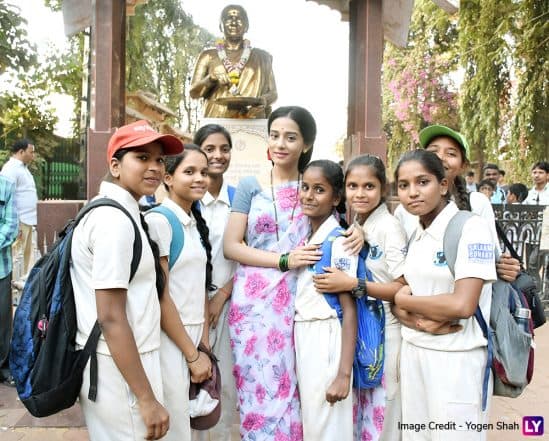 Thackeray was a celebrated man in Maharashtra. He started his career as a cartoonist and moved on to become the most popular and controversial politician India had seen in the longest time. His story needed to be told on a grand scale. And director Abhijit Panse seems to have done the task masterfully in Thackeray.
Amrita was last seen in the TV show, Meri Awaaz Hi Pehchaan Hai. And her last big screen appearance was a supporting role in Satyagraha.