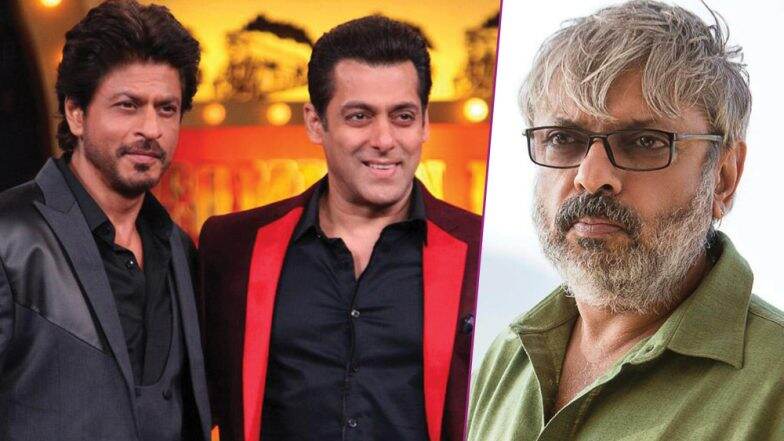 There is so much doing the rounds that honestly we don't have the slightest idea about Sanjay Leela Bhansali's next. This is the first time that fans are left confused about Bhansali's next because there is absolutely no confirmation about the cast. Of course, Salman Khan is a part of the project but what about all the rumours surrounding Salman and Shah Rukh Khan starring together in the film? And now, it is also being reported that Priyanka Chopra is in talks  for the same project. But how much of this is true? Well, if only Bhansali himself could clear the air for us! Anyway, while we await his confirmation, here's taking a look at what we know about the yet-to-be-announced project so far. Salman Khan-Sanjay Leela Bhansali Eyeing for Eid 2020 Release Clashing with Akshay Kumar's Sooryavanshi?
Salman IS In The Movie And It Is Confirmed
Recently on his birthday, a formal announcement was made that Bhansali will be reuniting with Salman Khan after 19 years. The last time they worked together was in Hum Dil De Chuke Sanam. So, what we do know is the fact that Salman and Sanjay Leela are coming together and that's for sure. It's Confirmed! Salman Khan and Sanjay Leela Bhansali to Reunite After 19 Years For a Love Story.
But What About Shah Rukh?
While Salman is very much a part of the project, whether Shah Rukh Khan will be a part of it or no is still a mystery. Every day there are different reports but not a confirmation from either SRK or SLB. But if indeed the filmmaker manages to get him on board too, it will be one helluva movie! We all love the scenarios and the magnificent sets that Bhansali creates and with King Khan and Bhai in it, the movie will only have BLOCKBUSTER written all over it and yes, we can vouch for that! Shah Rukh Khan Might Do a Crucial Role in Salman Khan-Sanjay Leela Bhansali's Film And We Wonder If Priyanka Chopra is a Part of it Too?
And It's Apparently Going to be a Remake of Baiju Bawra
So, there have been reports that the film might be a remake of Meena Kumari's hit classic Baiju Bawra. Sanjay Leela Bhansali has three names registered for the title of the film namely, Baijnath, Baiju and Baiju Tansen. Salman Khan-Sanjay Leela Bhansali's Film Might Have One of These Titles and That Will Sure Get Fans Excited.
Is Priyanka Chopra A Part of This Project?
Well, apparently! But we wonder how would the ace filmmaker manage to get her and Shah Rukh in a film together? Also, will Salman ALLOW Bhansali to let PeeCee be a part of the movie after she walked out of Bharat? The answer is loud and clear. In case she doesn't make it to the list, who will the director consider as the leading lady? Salman Khan is Hesitating to Work With Priyanka Chopra in His Film With Sanjay Leela Bhansali?
Like you can see, no details about the starcast of the film have been revealed so far except that Salman will be a part of it. Considering there are rumours about SRK being approached for the same project and that it is a movie by SLB, there is obviously much anticipation about the same. So here's hoping that the makers throw light on some more details about the movie soon!