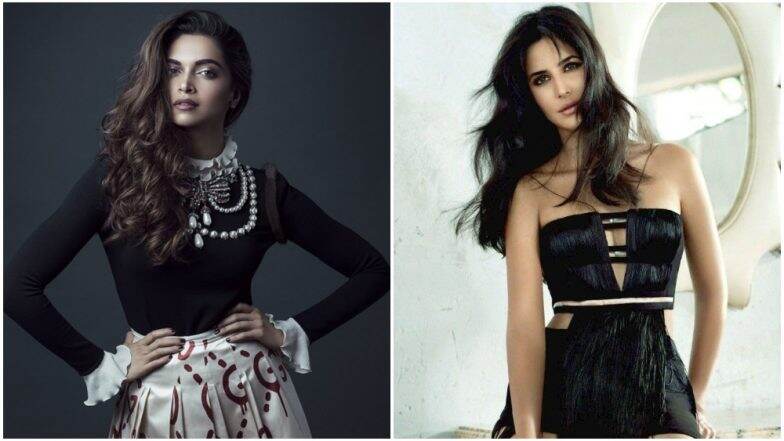 Katrina Kaif made headlines when she arrived at her arch rival Deepika Padukone's Mumbai reception. It won't be wrong to claim that her presence was the most talked about thing that night and even the couple itself was a secondary topic of discussion. Now the Padmaavat actress was very clear about NOT inviting her to the wedding and she even revealed the same on BFFs with Vogue episode last year. And whether it was Ranveer who insisted on inviting Katrina or Deepika had a change of heart, is a topic to debate some other day. But today, let's focus on the revelation that she just made on her new equation with the Bharat actress. Deepika Padukone Ends Her Cold War With Katrina Kaif, Starts Following the Actress on Instagram.
In her recent interaction with Jitesh Pillai for Famously Filmfare when the host asked her to describe Katrinas's attendance at her reception, the actress revealed that a lot has changed now. Speaking about the same she said, "A lot of water has flown under the bridge. For me, just the fact that she came and was very present was gracious (of her). I've always been fond of her. You know, just the way that she's been over the years, and with her work and I have a lot of respect for that. I made my peace with her." Well for us, all's well that ends well.
On the other hand, when Katrina was asked about her bonding with Deepika at the reception party, she said, "There are some moments which are too special and private to talk about and not meant for a public platform. What's important was that it was a really warm and fun evening and we all had a good time. There was a lot of love and we all danced and ate and had great fun! I was there till the wee hours of the morning." Salman Khan's Tiger Zinda Hai Sequel To Have Deepika Padukone? Here's Why Katrina Kaif Need Not Worry!
Well, certainly the ladies are in good books of each other and their Instagram update is proof of it. Deepika originally extended the olive branch by following Kat on Instagram and the latter reciprocated in a similar manner. Guess, the catfight is no big term these days as BFF has some more impact.