Taking our Ganesha Chaturthi coverage forward, we are now sharing with you pictures of three veteran actors of Bollywood celebrating the day. We have pictures of Nana Patekar and Rishi Kapoor bringing their Ganesha idols home. Nana even let a few photographers inside his house to click a couple of pictures. How sweet! Ganesh Chaturthi 2018: Pics of Shilpa Shetty and Sanjay Dutt's Ganesha Idols Arriving at Their Residence Are Joyous.
There is a popular story that Nana Patekar used to paint the eyes of the Ganesha idol himself. As per various reports, published in the past few years, Nana has a tradition of drawing Ganesha's eyes. We don't the reason for the same. but we hope to find out one day. Well, we wonder if in the following pictures the eyes of Ganesha are drawn by the actor!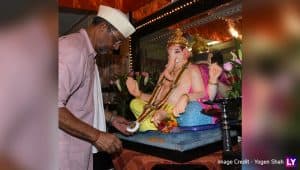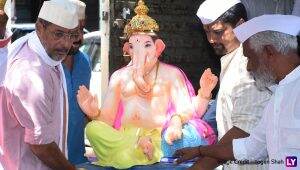 Rishi Kapoor is an ardent devotee of Bappa. He has maintained the tradition to host a Ganesha idol at his home for years now. This year too he was spotted bringing Bappa home. Though, just like last year, Ranbir Kapoor was nowhere to be seen at the time of clicking pictures. Ganesh Chaturthi 2018: Salman Khan's Sister Arpita Welcomes Bappa at Her Home – View Pics.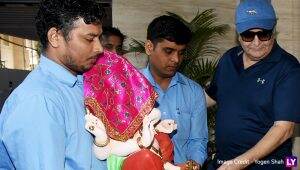 We also have pictures of Govinda celebrating Ganesh Chaturthi with his family. Also, in the pictures, you can spot Varun Sharma seeking blessings from Bappa at Govinda's home. Now, if you are wondering about the relationship between the two actors, we should tell you that they will be seen sharing the screen space in the upcoming film, Fry Day. May Bappa bless their film.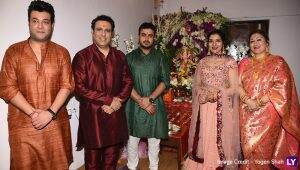 Earlier, we have shared with you pictures of Vivek Oberoi's family, Sanjay Dutt's family, Salman Khan's family seeking blessings from Bappa. John Abraham, Tusshar Kapoor, Sonu Sood, Daisy Shah's pictures have also surfaced. All we can say is that festive season has only begun.