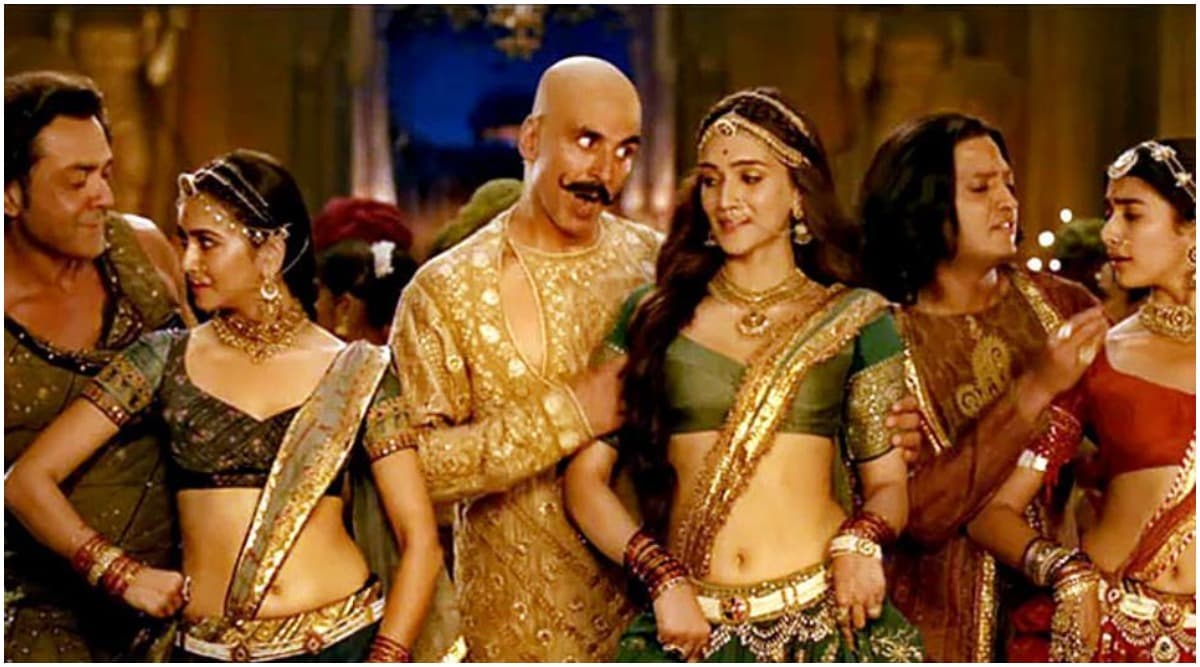 There is no doubt that Housefull 4 is the biggest Diwali release of this year, and is bound to take a good opening at the box office. There is also no doubt that it is not going to win over lovers of good cinema, just like none of the instalments of the franchise. Housefull 4 stars Akshay Kumar in the lead, as always, along with Riteish Deshmukh, Bobby Deol, Kriti Sanon, Pooja Hegde, Kriti Kharbanda, Nawazuddin Siddiqui, Rana Daggubatti, Ranjeet, Johnny Lever and Chunky Pandey. The movie is directed by Farhad Samji. Housefull 4 Movie: Review, Cast, Box Office, Budget, Story, Trailer, Music of Akshay Kumar's Multi-Starrer Comedy-Drama.
Housefull 4 is opening all over the world on October 25. Even the Gulf screenings will happen on the same day as the Indian release, and not a day prior, just so that negative reviews, if any, are not affecting the film. Even the press screenings have not been done prior to the daye of the release. Only legit reviews that are in, come from the celeb screening, and, well, which celeb has said anything bad about any movie, whose premiere they have been invited to!
However, there are some obviously fake reviews also trending on social media, most of them bashing the film. On a closer look, we can see that these 'reviews' come from fans of Akshay's rivals, like Salman Khan and Shah Rukh Khan. Akshay Kumar Gets Trolled Again for His Canadian Nationality As Bollywood Comes Out to Vote for Maharashtra Assembly Elections 2019.
Check out some of the tweets below:
Tweet #1
During intermission.. pic.twitter.com/VWuPlCiYQU

— Mishraji (@Nashhawk1) October 24, 2019
Tweet #2
#Housefull4Review The film is deliberately stupid in all sense. A budget of this sort could have used to make 2-3 decent films but is just wasted

The comedy is so stale that you feel like puking, the actors and the writers test your patience to the core#Housefull4 rating-⭐1/2

— Filmy-Keeda (@Filmykeeda__) October 24, 2019
Tweet #3
One word Review: L-A-M-E

Rating: 🌟🌟(2/5)#Housefull4Review

A lackluster comedy movie.

Poor storyline boring screenplay. 1st half was terrible.

Acting was ok, characterization was worst. Forced subplot unfortunately backfired.

— Light Yagami (@Light_Yagamind) October 24, 2019
Tweet #4
The movie is not a laugh-riot. Director has tried very hard to force a laugh, but fails to bring out even a smile. The first half is very boring. The second half starts with entertaining portions, but the excitement takes a back seat as it proceeds.

1/5*

— दिलवाला (@_dilwala_) October 24, 2019
Tweet #5
One word : Disappointed

Worst movie of this decade

— Canadian PM🇨🇦 (@Devi_Lal_Singh1) October 24, 2019
Tweet #6
After Watching #Housefull4

Me : #Housefull4Review pic.twitter.com/dITKic3Xg2

— CHULBUL RADHE 😎 (@Being__RADHE) October 24, 2019
Tweet #7
Just watched #Housefull4 in Dubai .#Housefull4Review - unbearable & shit comedy . 1st Half - Irritating &

2nd Half - totally Shit .

Watching this film is the biggest sin in the world , the public will have to undergo cataract surgery of his eyes.

My Rating ... ⭐/⭐⭐⭐⭐⭐ pic.twitter.com/it4AMx4XnN

— Zehra Khan (@ZehraKhan123) October 24, 2019
Tweet #8
#Housefull4Review Dull N Forced Comic. In short Go for Made in China by Rajkumar Rao or #BigilDiwali by #Thalapathy64 ✌️💯📢

— imkai (@_imkai_) October 24, 2019
Tweet #9
Rather watching housefull4 I will prefer to watch sandh ki aankh ... Housefull4 is waste of money whereas SKA is one of the best executed and acted movie #Housefull4Review

— Sakshat Dalvi (@sak_dalvi) October 24, 2019
If you really want to know the real opinions on Housefull 4, why not wait for a few more hours when the film opens up at the box office. LatestLY will be putting up its own review. Or better, you can catch the film yourself, and decide how funny the movie is.
At the box office, Housefull 4 is clashing with Taapsee Pannu and Bhumi Pednekar's Saand Ki Aankh, and Rajkummar Rao's Made in China. There is also Thalapathy Vijay's Bigil and Karthi's Kaithi looming over in the South.