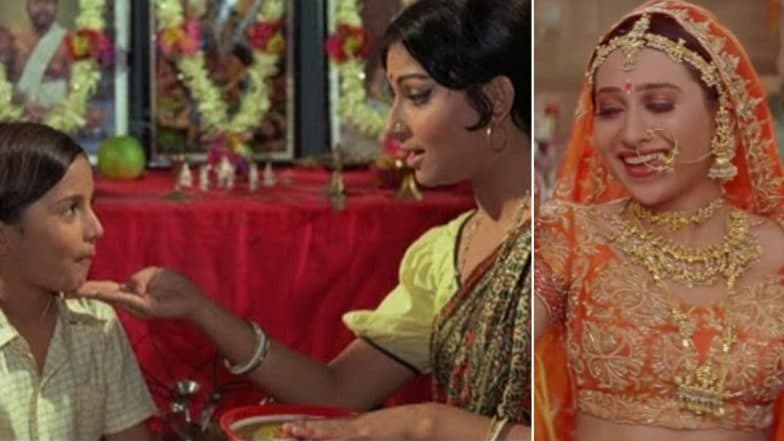 Bollywood and festivals go hand in hand. There are hardly any traditional occasions that have been left out by our filmmakers, thanks to the varied culture that India is blessed with. Just like Holi, Diwali, Eid, Raksha Bandhan, there is another occasion that is widely loved and celebrated by all the Bollywood lovers and that is Janmashtami. It is an annual festival that celebrated the birth of Lord Krishna. Naturally, there had to be some melodious songs dedicated to the day. Janmashtami 2019 Decoration Ideas: Brighten Up Your Home on Gokulashtami to Celebrate Lord Krishna's Birth.
Followed by the Janmashtami celebrations, are the Dahi handi rituals. There are ample of songs stocked in the albums for that occasion. However, the delicate and innocent moment of Janmashtami has some underrated tracks. From describing Lord Krishna's cute antics to his childhood acts, these songs take the listeners in the world of their own. Check out some of the best songs dedicated to the festival right here.
Bada Natkhat Hai Ye (Amar Prem)
The song catches the emotions of Yashoda's love for Krishna. Although she lovingly scolds him for his antics, she is also vulnerable in front of his innocence.
Watch Bada Natkhat Hai Ye Song Here:
Yashomati Maiyya Se (Satyam Shivam Sundaram)
The track has little 'Kanha' complaint about his complexion to his mother Yashoda. He compares himself with his friend Radha's fair complexion in this beautiful track.
Watch Yashomati Maiyya Se Song Here:
Woh Kisna Hai (Kisna)
The song is dedicated to the charm and magic of Lord Krishna over the people, especially the females. The song explains why he is considered one of the most alluring beings.
Watch Woh Kisna Hai Song Here:
Maiyya Yashoda (Hum Saath Saath Hai)
This one is dedicated to Radha's complaint to Krishna's mother about his naughty antics. This is one of the most loved Bollywood songs dedicated to Lord Krishna.
Watch Maiyya Yashoda Song Here:
Well, these were our pick for this Janmashtami and we are sure these tracks will help you get into the vibe of the festival. Tell us your favourite ones in the comments section below.