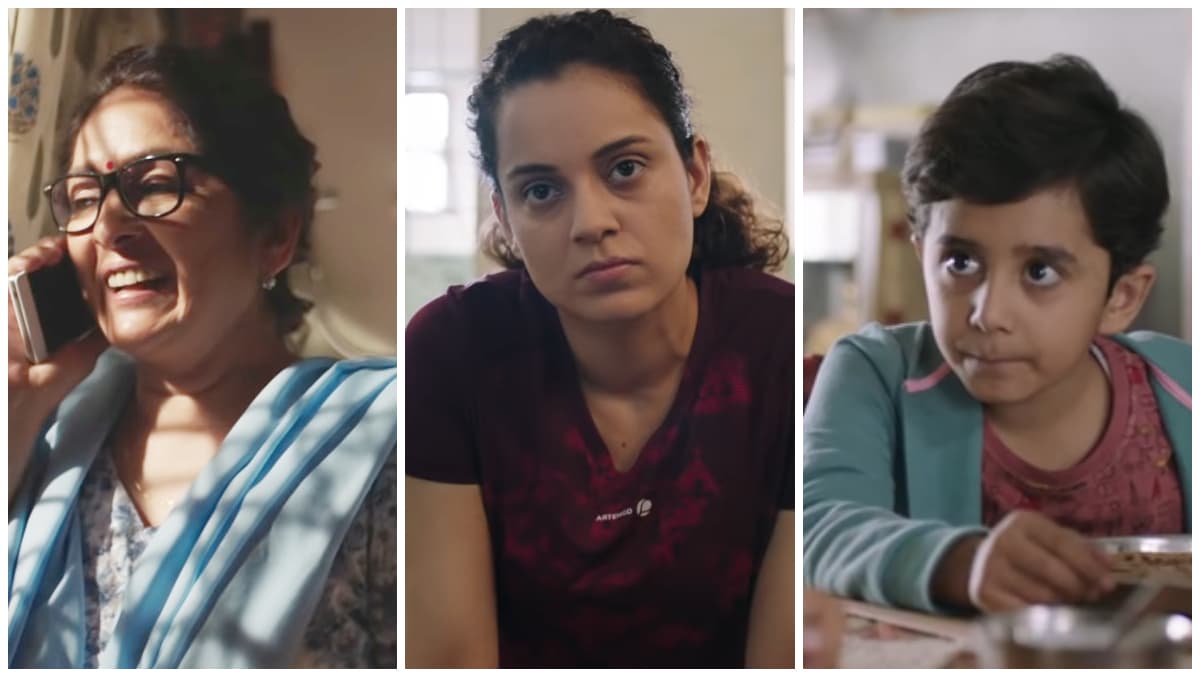 Kangana Ranaut's latest film Panga has opened in theatres. Directed by Ashwiny Iyer Tiwari, the movie is a perfect blend of drama and comedy. There are ample moments that will make you cry and so many more that will make you laugh. You should not miss the movie at any cost. It is incredible. And if you need more convincing to watch it, we are going to list down five moments from it that might do the job. Okay, goes without saying but SPOILER ALERT. In case, you have already watched Panga, let us discuss these moments more in the comments section. Panga Movie Review: Kangana Ranaut and Ashwiny Iyer Tiwari's Entertaining and Moving Film Will Make You Call Your Mother.
In Panga, Kangna plays a former Kabaddi player, now leading a domesticated life. She wants to make a comeback in the sport, and her husband, Prashant (Jassie Gill) and son Adi (Yagya Bhasin) are very supportive. She also has her best-friend Meenu (Richa Chadha) to help her in the journey. Panga Director Ashwiny Iyer Tiwari: 'Women Tend to Feel Guilty When They Try to Achieve Their Dreams'.
When Kangana Answers Why She Wants To Make A Comeback
Kangana faces no resistance from her family when she wants to make a comeback in Kabaddi. In fact, they are very supportive. But initially, the idea is tough for the husband to process. At one point Kangana says that she feels happy when she looks at him and their son. But, when she looks at herself, she doesn't feel happy. The simplicity with which dialogue is said, it will pierce through your heart.
Richa Chadha Calls Kangana A 'Selfish Mother'
Okay, this one is hilarious. Kangana drags her best friend Meenu (Richa) to Mumbai to get selected in a Kabaddi team. But Kangana puts forth a condition where she asks to be trained in Bhopal, where her family is, making this trip futile for Richa. Kangana goes on a rant saying that mothers who chase their dreams are called selfish. Both ladies get into a taxi. And Richa takes a jibe, "Bhaiyya chalo, piche selfish mother baithi hain!"
Kangana Plays A Prank
Kangana is selected in the Eastern Railway team and moves to Kolkata. On her first night, she is greeted by her much-younger roommate, who, at first glance comes across as a bully. Kangana switches gears and pretends to be her coach, asking her to pick up luggage and behave politely. The poor young woman learns the truth the next day.
Neena Gupta's Call
Neena Gupta is a supportive mother to Kangana. But when the latter decides to rejoin Kabaddi, the former is not exactly elated. After a few weeks, Kangana is basking in praises from all over the country. Neena calls her daughter and, so cutely, tell her to credit her for the success in the interviews. Sounds awful, when you read it, but you are going to tear up. Trust us.
When The Child Lies To His Mother
Yagya Bhasin as Kangana's 7-year-old son Adi is outstanding. You don't expect such finesse from such a young actor. During one point, he wants his mother to return home and give up her dream. You see, he was just humiliated in front of the entire school. His mother would have never let that happen. He makes his father call Kangana, and before they can break the news to her, she tells them something. She is selected in the Indian Kabaddi team. When the phone is handed to the kid, he lies through his teeth to tell his mother that his day went amazing and that he is proud of her.
These 5 scenes are just the tip of the iceberg that is Panga. There are many more such moments that make this film entertaining and inspiring. Do check it out.