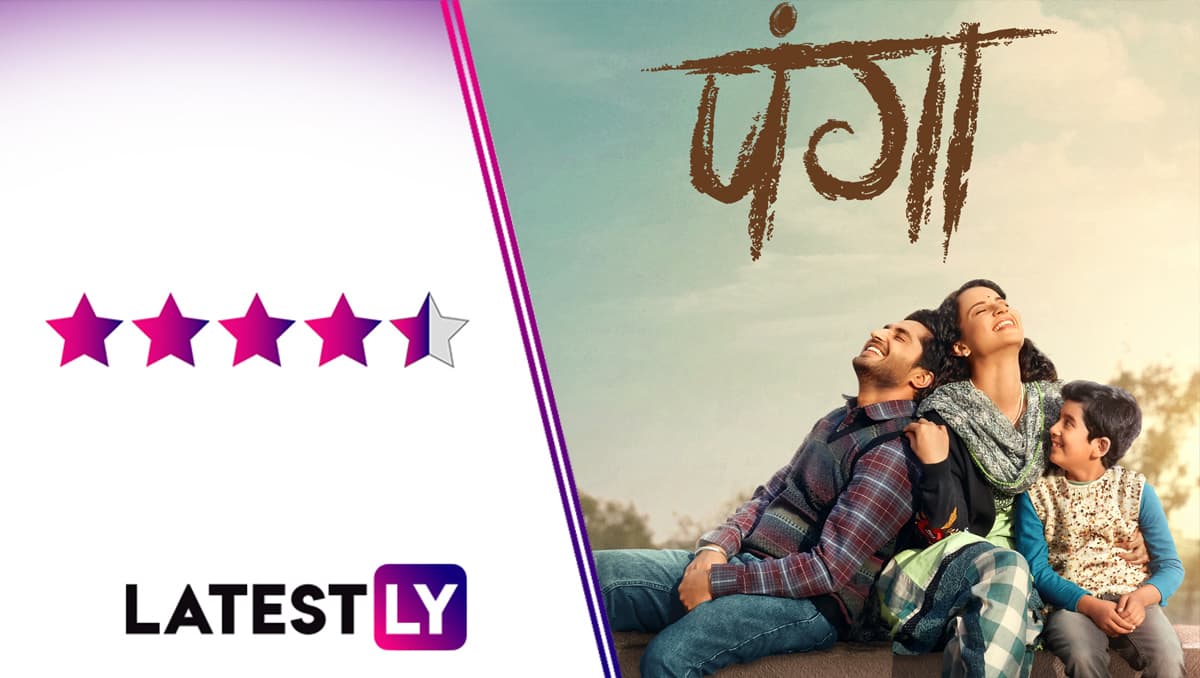 Now, this is called cinema. Directed by Ashwini Iyer Tiwari, Panga is a class apart from the nonsense that Bollywood has made a habit of churning out in the name of art and cinema. The movie stars Kangana Ranaut, so it goes without saying that the performance was flawless. The actress plays Jaya Nigam, former Kabaddi player who once captained the Indian team. Seven years and two months since her last game, she has accepted her domesticated life with her husband, Prashant (Jassie Gill), and son, Adi (Yagya Bhasin). She gets a chance to step back on the court and we get a heartwarming story that will make you pick up the phone and call your mother. I did. Panga Director Ashwiny Iyer Tiwari: 'Women Tend to Feel Guilty When They Try to Achieve Their Dreams'.
Panga is a blend of a sports film and an emotional drama. There are only so many ways you can tell a story about sports. To add on, only limited routes a filmmaker can take to talk about a comeback. And, I'd say, Panga gets predictable, but writers infuse it with so much of raw humour, brilliant dialogues, and relatable dynamics of friendship and family, that it comes across as a marvellously fresh film. The predictability is effortlessly overshadowed by humorous and entertaining content.
We don't get preachy dialogues about motherhood or women empowerment. The point is driven home by palpable acting and subtle yet jaw-dropping dialogues. Kangana tells her husband that she feels happy when she sees him and their son, but she doesn't feel the same when she looks at herself. The scenes hit right in the guts and tugs at the heartstrings. That is the summation of the film. At no point does it gets melodramatic or at least doesn't dwell on mushy or sad moments far too long for it to become boring. Rich Chadha playing Meenu, Jaya's BFF and trainer, ends Kangana's emotional outburst about being a mother with an insensitive joke.
Humour is plenty in the film. Child actor Yagya gets the majority of the comical punches and he delivers them all with calibre and charm. He is outstanding. Richa comes next to infuse humour in the film. She rocks each and every scene as well. Of course, the credit also goes to writers Nikhil Mehrohtra, Ashwiny Iyer Tiwari and Nitesh Tiwari. Director Ashwiny creates a loveable world that would consume from the very first scene. She has made a masterpiece.
All the actors put forth an award-worthy performance, that is if there were unbiased awards in Bollywood. Neena Gupta's limited screentime didn't bar her from giving a power-packed performance. Jassie, overflowing with adorableness, brings alive a character who is very easily the husband of the year.
Kangana is an institution in herself. She never misses a beat in Panga. She gets to show a variety of shades -from a mother to a wife to a Kabbadi pro - and she pulls off all with sheer brilliance.
The first half of Panga is absolutely flawless. The second, though, lacks energy for a very brief while, but that also pays off as the buildup for the climax.
The film is also technically well crafted. With a film like Panga, you would not expect much from the cinematography, but the makers hit you with gorgeous frames that stay with you. The colour palette of the film is beautiful. There are songs and they add to the story without hampering the pace. The background score is exhilarating and mellow when required, blending perfectly with the narrative. The production design makes everything so real. And a round of applause for Kangana's elegant wardrobe that was oozing middle-class household vibes, but was yet so fashionable.  Le Panga Song: Kangana Ranaut Shows Us the Tough Journey for the Making of a Champion in This Inspiration Title Track of Panga (Watch Video).
Yay
- Kangana Ranaut
- Literally the entire cast, even the supporting actors
- A heartwarming, hopeful, endearing story
- Background score
- Cinematography
- Dialogues
Nay
- The predictable flow of the story
- A little dip in energy for a while in the second half
Final Thoughts
Panga is a must-watch. These are the stories that should get credit for making us the biggest film industry in the world. This movie will fill you with joy and hope. Go. Watch. It.